What the skippers say
As Leg Zero ends, the Volvo Ocean Race skippers react to what has been an intense and exciting pre-race series
What a start to 2017-18 Leg Zero has given us! It's been exciting, intense, frustrating – and a great form guide for how the main event might play out when the teams assemble on the dock in Alicante in October. But what do the skippers think? We got their reactions immediately after crossing the Leg Zero finish line...
I think the decision to shorten the course was a good one...

Xabi Fernández, MAPFRE
We had an email a couple of hours ago from Race Control saying that the forecast was no wind at all and they decided to shorten the race which I think is a good decision because this Leg Zero was already becoming quite long and we are looking forward to finish and have a good rest.
Leg Zero has been very interesting and we've seen a lot of things. We've done a lot of training in the winter and I think we've seen that we sail very well. We sailed the first time with Joan Vila as navigator and he worked really well with the team. We are sure the work we are doing is okay but we know very well the others, as we saw on the last part of Leg Zero, are improving.

I think the racing is going to be tight and you have to push all the time. Even tonight and yesterday afternoon, sometimes we were dead, then we pass the competition again. We have to push and sail well every watch. We knew all this but again this has been a reminder then you cannot 'put your hands down'…
I think this race was a good test to see where we are

Simeon Tienpont, team AkzoNobel
What I've learnt from Leg Zero… I knew that it was hard to race these One Design boats but definitely you even learn more. How intense it is, how many decision moments there are, especially in these short, coastal races, you know, to get your way. We knew already it's close action but definitely learnt how important it is to have the routine on board right and keep everyone focused all the time.
I think this race was a good test to see where we are, especially the upcoming few weeks we still have to look into some more detailed performance and where are the areas we don't feel comfortable in yet. And have another look at the boat and try to learn as much as possible the capabilities of the boat and where she needs a little bit of extra attention.
We've been improving everyday we spend on the boat together

Charlie Enright, Vestas 11th Hour Racing
There may never be another one quite like that, but we'll take it... We've been improving everyday we spend on the boat together and it's nice to see that improvement manifest itself in the form of a win. We still have a lot to work on but it gives us confidence in the process as we move forward.
We've got five weeks to fix our weaknesses

David Witt, SHK Scallywag
The racing on Leg Zero has shown us what we're strong at, and what we're weak at. We've got a month to work on our weaknesses now, which we've got to fix. MAPFRE have dominated, they've shown everybody how strong they are and they've set the bar where we've all got to get to.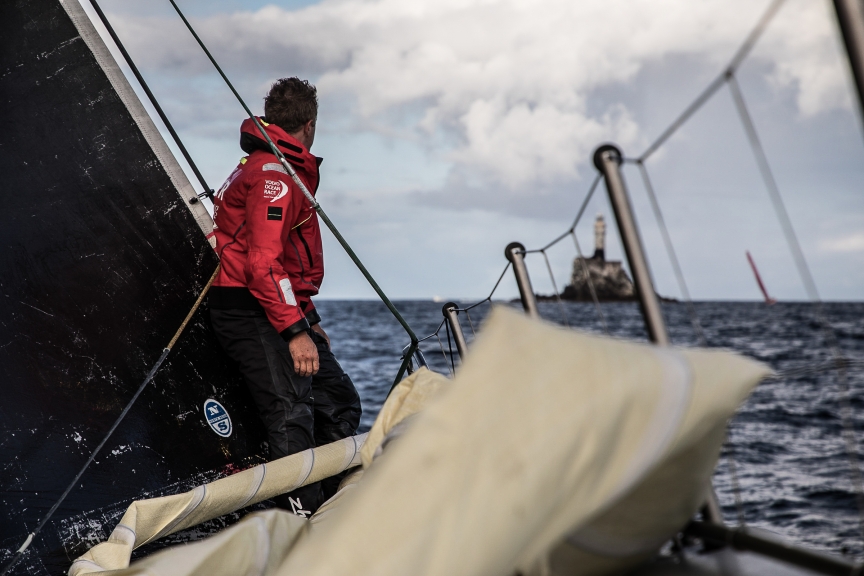 We are not weak in all areas, they are some areas we are quite good at. It's good to find this out now rather than on Leg 2 of the race. And now we've got five weeks to fix it – I've got a pretty good idea how to fix it and now we've just got to get on with it.
We learnt some things and good we slipped along nicely in the light air

Bouwe Bekking, Team Brunel
It was bit of an exciting finish, good come back from us that was really good. The first night was quite tricky but think we sailed really well afterwards, clawed right back into the guys who were ahead of us, and a photo finish between us and Turn The Tide on Plastic. But they switched their AIS off in the last little bit so we couldn't see them anymore so we will see. But really happy with the race, think we learnt some things and good we slipped along nicely in the light air.
The gains we've made are quite impressive in a short space of time so I'm excited about what potentially can happen

Dee Caffari, Turn the Tide on Plastic
To actually lead the fleet in this final stage of Leg Zero was absolutely awesome. The confidence it gave the team, you could see it, and the focus, the intensity, everyone raised their game because they could see the other boats so close. Obviously now its dealing with the frustration of losing the miles as quickly as we gain them and I think that's part of the lessons learnt. In the Volvo Ocean Race it's very easy to lose places and miles and it doesn't take a lot as we just saw at the bottom of the Bay of Biscay when the cards were reshuffled in this final leg. But it's really nice for the guys to follow the fleet, be in the mix, and now having had that experience of leading the fleet and I think they realise there is more pressure leading from the front with everyone chasing you down than it is hunting from the back.
We haven't had a lot of time, we haven't got an announced team yet so it's still kind of difficult to be a team that's building. But it's been quite reassuring that we are taking the right direction with the crew selection by the results we'v seen on Leg Zero. The gains we've made are quite impressive in a short space of time so I'm quite excited about what potentially can happen now and the time we've got before the main event starts in October.
It's really great this time to have the #cleanseas message, rather than a corporate brand, on our sails and we have a different message on each side of the sail. We want to raise peoples awareness and change peoples behaviour and how they conduct themselves regarding single use plastics. If we can be seen, be liked and raise people consciousness and awareness around their use of plastic, then we are doing the right thing.