Dongfeng first to round Fastnet Rock
The Chinese entry passed team AkzoNobel after a night of constant tacking battles
Current finish ETA for the Volvo Ocean 65 fleet: 0230-0400 UTC Wednesday 9 August
Dongfeng were the first Volvo Ocean Race team to round the iconic Fastnet Rock with a lead of 1.5 nm over AkzoNobel after a night of intense concentration in light conditions.
There were no dramatic crashing waves or fast Volvo Ocean Race style surfs overnight. Instead, Dongfeng Race Team brought their experience in the Volvo Ocean 65 to bear as they overhauled yesterday's leaders with smart sailing.
Both are hugely experienced teams, AkzoNobel has 23 accumulated Volvo Ocean Races in their crew to 18 on Dongfeng, but Charles Caudrelier and the bulk of his team raced together around the world last time and clearly remember how to go fast in light conditions.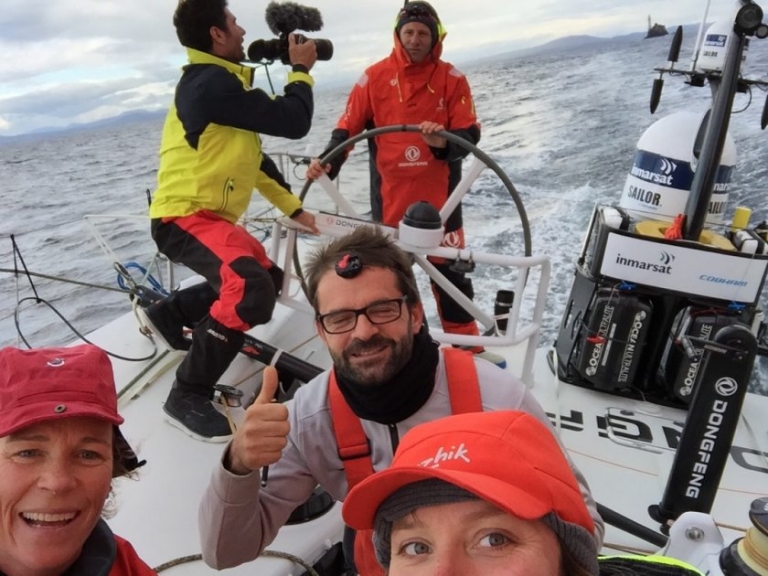 Last night also saw the return of MAPFRE into the podium positions. A painful westward tack early in the Celtic sea positioned the Spanish boat in slightly different wind from the rest of the fleet and then, again, their experience showed as they were able to sail faster than the rest of the fleet to regain the leaders.
Here's the ranking for the Fastnet rounding (all times UTC):
Dongfeng Race Team: 06:58 (1.5nm ahead of team AkzoNobel)
Team AkzoNobel: 07:06
MAPFRE: 07:18
Sun Hung Kai/Scallywag: 07:22
Team Brunel: 07:30
Vestas 11th Hour Racing: 07:30:30 (just 30 seconds, and around 200 metres behind Brunel)
Turn the Tide on Plastic: 07:55
The fleet is now sailing downwind with their biggest sails up (full mainsail and A3 gennaker) in 15 knots of wind that will build to 20 knots in a couple of hours. They are not pointing directly at the next race waypoint by the Scilly Isles as their objective is to keep sailing southwards, waiting for the new wind to sweep in from the west.
Now we wait with interest to see how this will play out closer to the finish. Will MAPFRE manage to sail fewer miles on the east side of the course or will Dongfeng and AkzoNobel be rewarded for sailing fast in search of new wind?
Time will tell.