Hola Ñeti!
Antonio "Ñeti" Cuervas-Mons is confirmed as the third crew member onboard MAPFRE
MAPFRE announced today that the Spaniard will once again sail with them as bowman, making the 2017-18 edition his fourth consecutive appearance in sport's leading team challenge.
At just 35, Ñeti is fast becoming a Volvo Ocean Race veteran...
Described by skipper Xabi Fernández as the team's 'Macgyver', Ñeti will also take on the responsibility of Boat Captain.
"I am really pleased to be involved in the Volvo Ocean Race again," said Ñeti. "Our main focus now is to start preparing the boat, choose a good crew and make sure the team is in the best possible position come October."
Both Ñeti and Xabi were onboard MAPFRE during the 2014-15 edition and they were also Volvo Ocean Race team-mates in 2008-09 and 2011-12.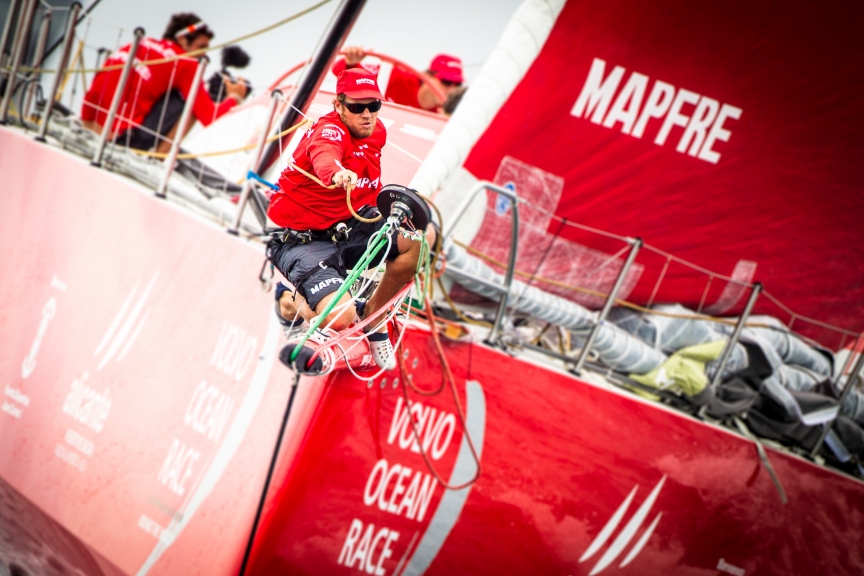 Ñeti is a very good and multi-skilled sailor. This will be our fourth edition on the same team and I look forward to working with him again

Xabi Fernández, skipper of MAPFRE
Ñeti is famous in Spain for the group of 'Ñetifans' who follow him around the world cheering their support.
MAPFRE was the second fully re-fitted Volvo Ocean 65 in the water this week in Lisbon and the team – which also includes the previously announced Pablo Arrarte – are due to start training shortly.