"I will fight"
Q&A with Team AkzoNobel skipper, Simeon Tienpont
Team AkzoNobel skipper, Simeon Tienpont discusses his competition and his desire to win...
Hi Simeon – you were the first team to announce, and you've been busy preparing for the upcoming edition of the race. How's it all going?
The build-up to a Volvo Ocean Race campaign is fun, but there are a lot of moments when you're just looking forward to getting out on the water, and getting on with it. I can't wait – we had a chance to train with the ex-Vestas boat from last race, which was really good. Admittedly, as a new team, you start everything from new, and there's no playbook for a lot of those things.
But I think that can be an advantage in a one-design race because you look at things in a different way, and bring a new stronger perspective

Simeon Tienpont
Talk us through your relationship with the Volvo Ocean Race. Why was it so important for you to compete – and even better, do it as skipper?
I grew up with the race. Both of my parents are big fans – in the Netherlands everyone loves the race, mostly because of Conny van Rietschoten, but also due to some of the Dutch campaigns that came after him. I remember when I was five or six years old, and we saw the Equity & Law II boat which went around in 1989-90, and I remember instantly getting hooked with the adventure of it all.
In 1993-94, my parents took me to the start of the Whitbread Race. At the time, I had one big sailing hero, and that was Dennis Conner, who was sailing that edition of the race on Winston. I remember that moment really well, he was such a complete sailor, someone who had won America's Cups and then competed in the Volvo Ocean Race, or the Whitbread as it was then. It's funny the things you remember, and I always sort of had that dream, sailing around in my Optimist with Whitbread stickers all over it. Everyone else on the lake would have been looking at me thinking, that guy is dreaming!
Awesome story! So how does that young kid then become a part of the race? Talk us through your journey to the start line in 2005-06…
Well, the first time I felt like I really seriously wanted to do the race, I was around 19 or 20 years old. I never planned to be a professional sailor, but I was a huge fan of the race – I've been to every start of the race since 1993-94.
I remember for the 2005-06 race, when the Volvo Open 70 was announced, I tried to get myself connected to a lot of the teams
When the ABN Amro project was announced, it seemed like a real chance to go through the selection process for a new generation of sailors. I was lucky enough to get chosen, and entered a race which went on to give me some very good moments and some very sad moments, which is everything this race is about.
I remember the end of the race, sailing under the bridge in Gothenburg, and I thought to myself, 'I will do this again, and hopefully next time I'm sailing under this bridge I can win the race'. It's going to be a big challenge over the months to come!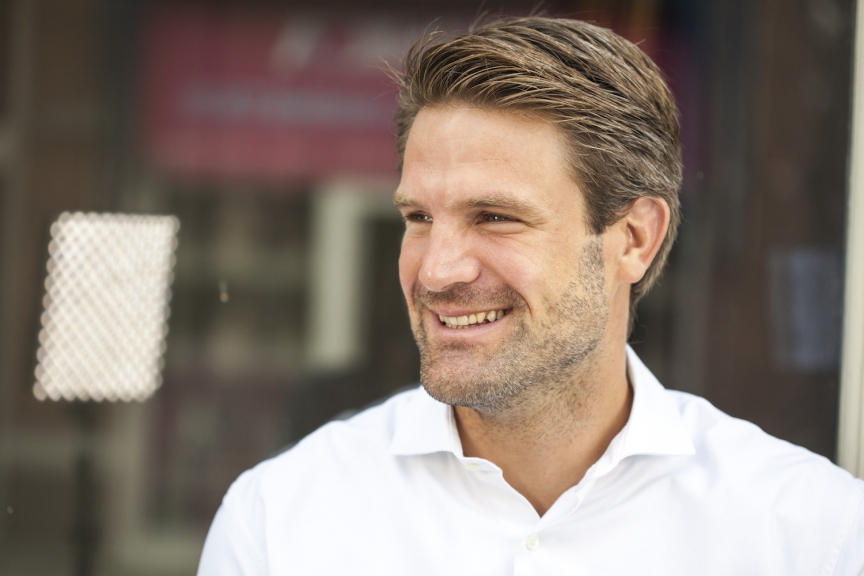 Fast forward 11 years from that moment, and the race is entering a new era. There have been a lot of rule changes around crew selection ahead of the 2017-18 edition. What do you make of them?
For me, the funny thing is that you look at it from a sporting point of view, you don't necessarily look at it as under 30s, or females – you just look at it as other athletes or sailors. At the end of the day, you're trying to get the best sailors in the world – specialists to fit in every area. For sure, the change to the rules will give a new dynamic, but don't forget, in the first race they sailed with a mixed crew as well, so it's been done before.
It's definitely interesting though, and looking ahead to the future will be interesting too. I think the ABN Amro project was particularly cool and we did particularly well in that race because we had a completely new generation of boats. Even at the time, with Seb (Josse) as the skipper, having all the experience from the Open 60s, we sailed it in a different way.
Maybe it's because I'm a naval architect, but I think that you can do a lot with the design of the boats too, to encourage new generation to join the race. If you want to give youth a chance, you just have to make the boat more physical. That's how all the guys like myself got into the race.
Sailing is a beautiful sport because you mix talent with experience. It's very rare to see such a big difference between ages or genders which can combine so well. That's the cool thing about the sport – and the race – that you can do a lot with the tool, or the design, to make change happen, rather than forcing through changes.
Do you have an opinion on the rule changes? Have you been trialling anyone in particular?
I think that during the training sails you just have to get your head around how you can be the smartest. Of course, everyone has an opinion about it, and that's why we're all at the top of the sport - you form opinion together. It's the result of a one-design class. Creating your own boat is something that a lot of sailors have a background in – they have an engineering background, or they're sail designers, or boat builders – so everyone has his own interpretation of what combination will make the fastest boat.
You're now one of three announced skippers, with a fourth on the way. What's your opinion on your competition – particularly MAPFRE's Xabi, who you know really well…
Xabi is one of the most experienced guys in the world. I have the utmost respect for him, and he's a good friend. He's done it all – the America's Cup, the Olympics, and the Volvo Ocean Race. It's funny how your paths cross, but every time we meet it's really good. I haven't spoken to him since he was announced, but I've had a couple of conversations with him over the last few months. It's a very exciting time for him, especially with the America's Cup coming up. Even though it means he's not around so much training with the team, those Cup campaigns are huge in terms of growing yourself, and I think it will have a huge impact on how he looks at things and takes things on as he moves into the next edition of the Volvo Ocean Race. I'm really excited for him to have his own programme, he will be one of the top guys to beat. He has a great set up there, and they've got the bar really high, that's for sure.
When you first announced the project you said that you had one aim, and that was to win the trophy. Has that changed? Or has your desire to win only grown stronger?
For me, since this project got going, or even before that, I have only wanted to do this race to win. It's not about going around as a banner. It's too tough, it's too long, and it changes everything in your life. If you feel like you're not in it to win as a team, that has massive implications on your campaign and your sponsor.
I think that once we got going with AkzoNobel, and discovered their winning attitude and their fighting spirit, my desire only got stronger. Of course, I realise how difficult it is, and that's something that's proven time after time after time, but the goal is still there.
I will fight and give everything that I have to win this race. If you want to know how obsessed I am, just ask my wife