Staying connected
Cobham SATCOM to once more supply boats' satellite and radio hardware next edition
Well, now you can. We visited the company's manufacturing facility in Pandrup, Denmark, and took a look at what goes into the products which can, quite literally, mean the difference between life or death. Pretty cool, huh?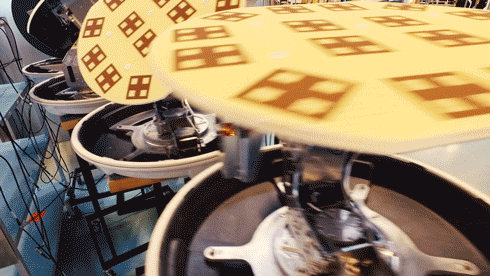 They allow the boats to do three things: stay safe in an emergency situation, access all-important telemetry and weather data, and share their stories to the millions of fans on shore.
And the good news? Cobham SATCOM has been named Satellite and Radio Communications Equipment sponsor for the 2017-18 edition of the Volvo Ocean Race.
It will be the sixth consecutive edition that the satellite communications specialist has supplied hardware to the Volvo Ocean Race, and the announcement ensures the latest SAILOR FleetBroadband products will continue to be a fixture of the world's toughest professional sporting event when the boats line up in Alicante in October 2017.
"We're delighted to continue our long-standing relationship with Cobham SATCOM. Their products play a vital role in us bringing the story of the racing from the oceans to the fans at home," says Volvo Ocean Race's Chief Digital Officer, Jordi Neves.
He continued: "With the Volvo Ocean Race fleet set to sail three times more miles in the Southern Ocean in the next edition, the upcoming race will really put the on board equipment to the test – and we have faith that Cobham SATCOM's products can withstand the most extreme conditions on the planet."
The deal means that Cobham SATCOM will continue to supply not only the satellite communications hardware for the Volvo Ocean 65s, but also a wide range of radio and safety equipment.
"The Volvo Ocean Race is the toughest arena there is, and the ultimate showcase for our products," said Casper Jensen, Senior Vice President of Cobham, and Head of Cobham SATCOM.
"The Volvo Ocean Race is the most global event in sport – visiting 11 iconic cities across five continents – and is an invaluable link to our key markets across the planet."
He added: "With the boats set to race the longest distance in the event's history, the next edition represents a very tough challenge for our equipment – and can only enhance their credentials as the most reliable communications equipment for all maritime applications.
"The 2014-15 edition showed that, despite the one-design boats being much less prone to breakages, there is still a distinct need for reliable and effective safety equipment. We're extremely proud to provide that peace of mind and protection to the sailors, and to remain part of the Volvo Ocean Race family."