'Thank you Abu Dhabi'
Winning skipper Ian Walker reflects on two Abu Dhabi campaigns - and looks to the future
It's testament to the performance of their winning campaign last edition that the sponsor has achieved all business and competitive ambitions – and decided that now is the time to focus on other projects.
It means that there'll be a new winning sponsor in 2017-18 – and race fans can expect to hear more on which teams will be battling to get their hands on the trophy shortly.
The route is almost finalised, and with a host of exciting stopovers already announced, including Hong Kong and Cardiff – a first return to British soil in 12 years – the next race is shaping up to be the best yet, with some truly epic legs in store.
Skipper Ian Walker gives his reaction to the news and reflects on five years leading the Emirati campaign, his highs and lows over two editions – and whether he'll be returning in 2017-18 to defend the trophy...
Having fulfilled its two edition contract with the Volvo Ocean Race and achieved all its goals for both the team and the stopover it has been decided by Abu Dhabi not to re-enter the 2017-18 Volvo Ocean Race.
It is almost exactly 6 years since Jamie Boag, Phil Allen and I signed a contract with the (then) Abu Dhabi Tourism Authority to manage its team in the 2011-12 Volvo Ocean Race. After cutting our teeth with Green Dragon in 2008-09 this was our chance to try and step up and win the race.
Since then we built Abu Dhabi Ocean Racing up from scratch into a global brand and a team that was capable of dominating the 2014-15 race.
Of course it wasn't without its ups and downs. None of those involved will fail to remember the gut-wrenching disappointment of the mast breaking on the first night leaving Alicante in 2011, or the desperate bid to stay in the race after damaging the boat in the Southern Ocean and retiring from Leg 5.
Perhaps the hardest thing for me personally in that race was slowly realising that our boat wasn't fast enough to compete and having to keep together and motivate a talented team who all wanted to be doing better than they were. We were very late to get started in that race and the lack of preparation and design time cost us dearly.
Fortunately there were some breathtaking highs in that race such as the inport race win in Abu Dhabi or the win against all odds in the transatlantic leg to Lisbon. These were crucial to encourage Abu Dhabi to stand by us for the next race and with more preparation time and one-design boats we were able to deliver a succession of highs throughout the 2014-15 race.
If there was a low point it was perhaps failing to win Leg 2 into Abu Dhabi where we so wanted to deliver a victory for our home supporters or the transatlantic leg to Lisbon where we failed to get on the podium for the first time in the race.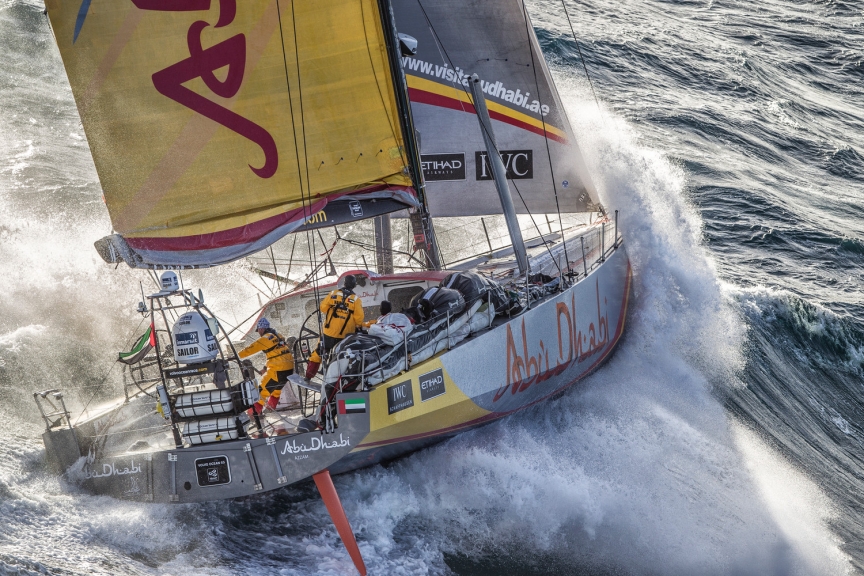 The highs are too numerous to list but breaking the 24-Hour Speed Record the day before rounding Cape Horn is right up there, along with smashing the Round Britain and Ireland record and winning the Volvo Ocean Race two legs which we had retired from in the previous race.
I'll never forget the sheer joy of arriving in Lorient and knowing that we had done enough to win overall with a leg to spare or the moment we finally got our hands on the trophy.
Abu Dhabi was always much more than a sponsor for us – for five years it has been our second home. It has given us and our families a fantastic opportunity to experience a different culture and visit a region that we had never experienced before.
I am honoured to have had the chance to share time and food with the local people in the desert, to have been able to race with the local dhow community, and to have shared the Volvo Ocean Race experience with local schools. The crowning experience for me will always be presenting the Volvo Ocean Race Trophy to His Highness Sheikh Mohammed bin Zayed Al Nahyan, Crown Prince of Abu Dhabi.
We have enjoyed amazing days out at Abu Dhabi's other world class sports events like the F1 Grand Prix, the Abu Dhabi HSBC Golf Championship, the Abu Dhabi Tour cycling and the Abu Dhabi Triathlon amongst others.
How else would I be able to say that I have sailed with Jonah Lomu, Zinedine Zidane, Luis Figo, Dan Carter, Ritchie McCaw, Francois Pienaar, Lee Westwood, Sergio Garcia, Steve Redgrave, Phil Mickelson, Prince Andrew, the Brownlee brothers, the Big 'Z", Nuno Gomez, to name a few celebrities - let alone played 'keepy uppies' against Cafu or had a chat with Rory McIlroy on the satellite phone in the middle of the Indian Ocean!
We will be forever grateful to the senior members of the Abu Dhabi Tourism & Culture Authority and the Abu Dhabi Sports Council, especially TCA's then chairman HH Sheikh Sultan bin Tahnoon Al Nahyan and its director general HE Mubarak Al Muhairi for not only selecting us to manage their program against some formidable opposition in 2010, but most importantly for sticking with us after the disappointments of the 2011-12 race. None of this could have happened without the unfaltering support of Matt Boucher and all his colleagues at those organisations.
So many people have helped us both locally in Abu Dhabi and most notably as members of the Abu Dhabi Ocean Racing team that it is impossible to mention and thank them all. Thank you to all 17 sailors who sailed for Abu Dhabi Ocean Racing across two editions of the race with special thanks to Adil, Si Fi and Justin who sailed both races. Justin deserves a medal for sailing three times around the world with me!
A huge thank you is also very much due to the 52 people over two races who worked directly within the team, to the team sponsors and partners and our friends at Volvo Ocean Race headquarters who all helped to create what Abu Dhabi Ocean Racing became. We didn't just win the race - we tried to do things the right way.
I cannot write this without thanking my business partners Jamie and Phil who have put their life and soul into the project and have always been there to support me. Thanks also to Karen MacWhinnie who has been a tower of strength throughout both campaigns and to our business partner in Abu Dhabi, Ali Kaddas.
Sailing has grown markedly in Abu Dhabi in the time that I have been going there and I hope the region will continue to attract more sailing projects in the future. Abu Dhabi's maritime heritage is long and the Volvo Ocean Race is a new chapter that has now been written. As to whether this is the end of a chapter for me in the Volvo Ocean Race? We'll have to wait and see.
Shukran! - Ian Walker, Abu Dhabi Ocean Racing skipper