Remembering Hans
A decade after his passing, Hans Horrevoets' spirit and legacy lives on
It was May 18, 2006, when the 32-year-old ABN AMRO TWO sailor was swept overboard as the Dutch boat nose-dived into a big wave in 25 knots of wind during the transatlantic leg from New York to Portsmouth.
The Dutchman's loss sent shockwaves across the whole sport – and beyond.
"He was a really important member of our team – everyone has such fond memories of him," remembers Simon 'Sifi' Fisher, who sailed his first Volvo Ocean Race on the boat, and most recently won the trophy as navigator onboard Abu Dhabi Ocean Racing.
"Many people say that the last race I did must have been the most amazing – but in many ways, that first one, alongside Hans, was the most special for me."
Hans was a senior member of the crew, which was largely made up of Under-30s.
After 40 minutes of extraordinary seamanship, the crew located Hans' body and hauled him back on board – but he could not be resuscitated.
Sifi continues. "We all lost a friend out in the Atlantic that day, and there are a lot of difficult memories there.
"But we're very grateful for the memories we do have – we had a really great team, and Hans was a major part of that. In fact, he was actually the person who did a lot of the selection, and the process of putting it all together."
Hans' fellow Dutchman Gerd-Jan Poortman, who raced the last edition as bowman of Team Brunel, was also a part of ABN AMRO TWO in 2005-06."Hans is still hugely missed – especially here in Holland," he says. "His energy and ambition were totally addictive.
"In particular, his passion to open up offshore racing to the next generation is very much missed – and still a great example to me."
It's that passion which led to the Hans Horrevoets Rookie Award being established in 2008-09.
"It's a great trophy," continues Gerd-Jan. "It doesn't have anything to do with the accident, but it is something that he really stood for. Hans was always busy with new talent, and trying to develop new sailors in Holland."
The award is given to the outstanding young sailor of each Volvo Ocean Race – and was most recently won by Team SCA's Sophie Ciszek, one of the stars of the all-female campaign.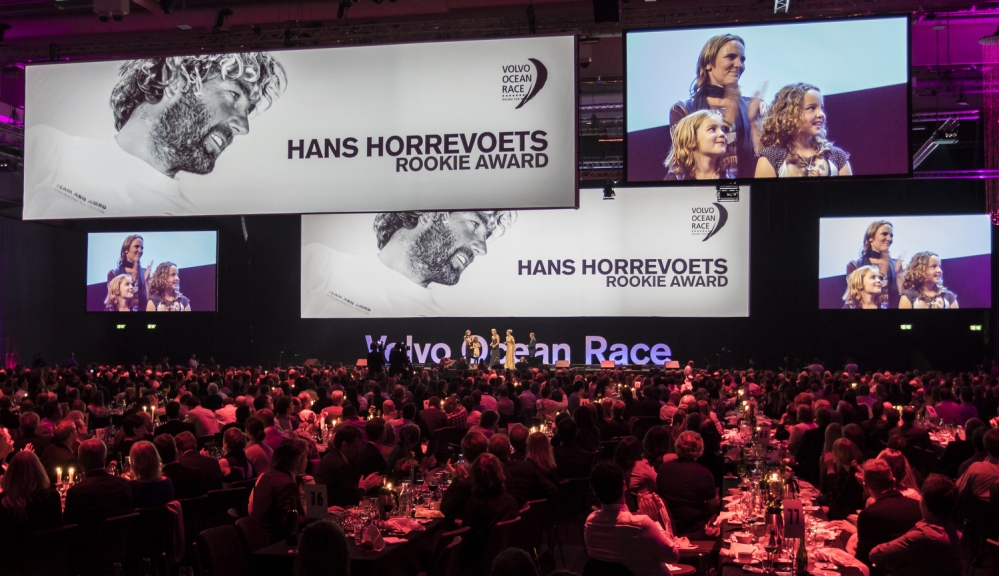 "Winning the award was really special to me," she explains. "Hans was one of those guys growing up who inspired me to become a Volvo Ocean Race sailor in the first place.
"I remember growing up, watching all the crazy footage and determination showed as they raced around the world, and I realised they would do anything to be the best.
"I always adopted that mind set and tried to follow in their footsteps. Being one of the youngest and least experienced sailors in the race, I wanted to learn, grow and become the best I could be - and thanks to Team SCA I was given the opportunity to pursue and achieve my dreams."
It was at the glitzy Volvo Ocean Race Awards night in Gothenburg in June last year that Sophie learned she'd scooped the prestigious prize, which was presented on stage by Hans' family.
It's a moment that will forever rank highly for Sophie. "Receiving the Hans Horrevoets Rookie Award trophy from Petra and the girls was one of the biggest achievements in my sailing career, and I can't thank them enough."
Nick Bice, now Head of the Volvo Ocean Race Boatyard, also sailed alongside Hans on ABN Amro Two.
"We were just a bunch of young lads," he explains. "We didn't really have a clue about what we had in front of us. A few of the guys on board had done the race before, and we all had offshore experience, but these boats were something different – big, powerful machines.
"Our brief was simple: have fun, and cause some upsets on the racetrack."
They certainly caused some upsets – taking the lead on the first night of the race, and, smashing the world monohull 24-hour speed record – twice! And that was just on the first two legs.
Oh, and they had fun, too – as Bice explains. "Prior to the start in Sanxenxo, a few of us young fellas decided to shave our heads and see how long we could go without a haircut.
"Hans was having none of it, and we all thought he should lighten up a bit and get rid of those impressive locks he possessed. It wasn't until one day out on the water when the wind blew his hair up that we realised why he didn't want to take part.
"I have never seen ears like it, they were massive! Hans was happy for us to take the mickey out of him for not cutting his hair – just because it meant we weren't talking about his ears!"
He explains that, after Leg 7, despite just having sailed one of the most devastating legs in the history of the race, and the huge trauma of dealing with the loss of their friend, the ABN AMRO TWO crew decided to complete the remaining legs of the race in memory of their teammate.
"It was quite fitting that in the leg from Rotterdam to Gothenburg, we led the whole race and eventually came in second. Everything we did from that point was in Hans' honour."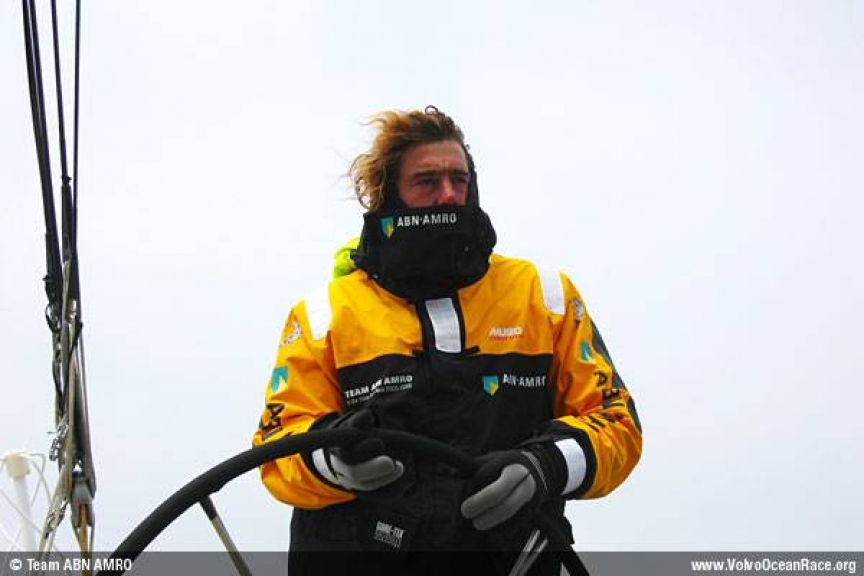 They say that adversity bonds people more often than it breaks them. One thing's for sure - the crew of ABN Amro Two will always have share a special bond, as they celebrate the life of their friend.
"We still keep in touch, and it's great to catch up with everyone every now and again," explains Sifi. "In fact we're all talking about getting together this year to raise a glass to Hans."
A decade after we lost him, Hans' legacy, energy and pioneering spirit still live on in this race.