Want to take photos like this?
Meet Ainhoa Sánchez - the lady behind the lens
And now official race photographer, Ainhoa Sánchez, is returning to Volvo Ocean Race HQ to share her experiences and tips with lucky fans.
The Spanish snapper will host a masterclass in the Volvo Ocean Race Museum on Tuesday, March 1 at 1900. To book your place at the event, click here and send a message with your details.

We caught up with Ainhoa to find out more about her journey so far, what's in her camera case, and her top tips for wannabe photographers...
Hi Ainhoa! Most Volvo Ocean Race fans will have enjoyed your work, but they might not know much about the person behind the lens. How did you get here?
Well, it's actually a long story - but I'll tell it, as people like to hear it! In 2008, I was working as a writer, photographer and public relations officer with a female sailing team in Galicia, Spain. I'd always had a passion for photography and fine arts - I paint, and when I was little, my dad would use my bedroom as a dark room. I was sleeping in the corner while he was developing photos.
I decided that I really wanted to make a career in sailing photography. I put my life on hold for a whole year, and threw myself into the study of photography. I bought my first camera, a Canon 450D, which was all I could afford, and started attending regattas in my local area. My photography teacher was really great, and I think saw a lot of potential in me. He told me that I needed to upgrade my camera, but I explained that I simply didn't have the money.
One day, on my birthday, my teacher gave me a present - it was a Canon EOS 50D, my first professional camera! It was such a huge moment for me. I spoke to my parents and explained that I really wanted to do this, but I really needed their help. They bought me my first lens, and computer, which I am so grateful for.
A friend lent me some other lenses, and with that help, I travelled south to Alicante and got accreditation for the Audi Medcup. I was sleeping on the floor of a friend of a friend's house, eating sandwiches and every day, it was just shooting, and editing like crazy.
Everyone was helping me out. My brothers paid for some flights, and one day, in Madrid, some journalists heard my story and said they'd drive me to Portimão so that I didn't have to pay for transport. When I arrived, the race organisers were really happy with my work, and we struck a deal that if I provided them with 15 photos per day, they'd pay for my accomodation.
It was in one of those events that I met Richard Walch, a great photographer and Canon ambassador, and he was a great mentor to me. He would give me tips and feedback on my work, even though he spoke no Spanish, and I spoke no English! We would point and rate photos out of five!
Soon after that, someone asked me if they could buy one of my photos, for the first time. I froze, and didn't know what to do. I remember, I called my dad crying, I was so happy!
And here we are today. The 2014-15 race was my third round the world event. My first was the Velux 5 Oceans, which is a single-handed race, and then I did the 2011-12 Volvo Ocean Race, but I was working for teams and sponsors.
As the official race photographer, I got to tell the whole story, from start to finish. That means sailing pictures, portraits, emotions, landscapes, helicopter aerials and on the water, in a RIB. It's a really varied role, and pressured, too - you don't just have one team to focus on, you have seven.
Wow! What a story. During the 2014-15 edition, you took some really iconic photos which will be remembered for years to come. What's the secret to the perfect sailing photo?
I don't think there is a secret, because there's no such thing as a perfect picture. I'm always looking for it, but I've never found it. That's not a bad thing, though - the day that I take the perfect picture, I'm finished. There's no need to continue innovating and pushing forward. I think I took around 85,000 photos during the 2014-15 edition. Every picture has so many different emotions attached to it, and that differs from viewer to viewer. It's impossible for everyone to enjoy each photo in the same way.
One for the geeks: talk us through the equipment you used during the last race?
I used four cameras – Canon EOS 7D, Canon EOS 5d Mk ii (full frame), Canon EOS 1D Mark iv. The last one was a back-up - a Canon EOS 50D - which was actually my first professional camera, so it holds a special place in my collection. In terms of lenses, I carried a 16/35 mm, 24/105mm, 50mm, 70/200mm, 300mm and extender 1.4. Other than that, three camera flashes, two studio flashes, about 15 Toshiba memory cards, double batteries for every camera, and an water housing bag. I'm sure I've forgotten some things - I don't travel light!
Whenever the boats are racing in-port, there are loads of spectator boats and RIBs. As a professional photographer, how do you feel about iPhone photos and the rise of social media? Does it make you nervous?
No, I'm not nervous. When I'm on holiday, for example, I use my iPhone, and I love it. There are always new ways to use all kinds of equipment. The truth is, you can never compare photos taken with an iPhone to ones taken with a real camera. They will never be replaced, because it's two completely different media. It's like the difference between going by motorbike, or by car. One of my favourite phrases is, 'good photography is in the photographer, not the camera'. Since I began as a sailing photographer, social media has changed the game. The main difference is the speed that I have to work at, because everything is going faster and faster, every day. Client demands are higher than ever, and it's tough to balance that with creating really high quality, beautiful work. It's a challenge but I love it. I really embrace the power of social media, and love to receive instant feedback from race fans when I post new photos.
- Follow Ainhoa on Instagram and Facebook. -
Who was your photography inspiration?
When I began to take an interest in sailing photography, my idol was always Carlo Borlenghi. His work is so different to everyone else. I've always been really into fine art and painting, and so I guess I tried to incorporate that into my photos. Sailing photography, in Spain at least, was always quite sport-focused, and not so artistic. I realised that if Borlenghi could do something different, then so could I. I remember the first time I met him, in the Audi Medcup in Portimão, I was so nervous that I couldn't speak. We're friends now - he wrote the intro to my first book. He came to Gothenburg this race for the final stopover to work for the event communications team, and his photos were incredible.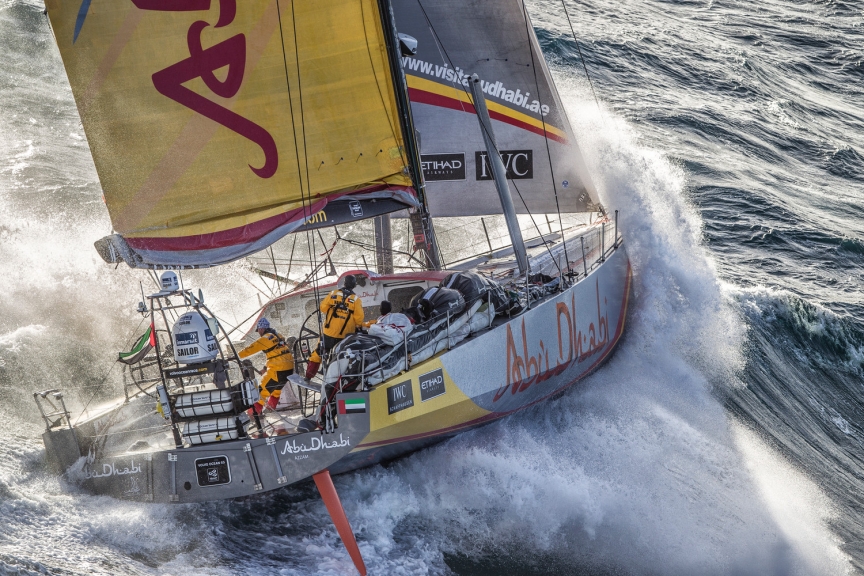 What makes the Volvo Ocean Race so special from a photographer's point of view?
For me, it's all about the story. The Volvo Ocean Race is the biggest and most important event in sailing. It's not just an race - there's so much emotion and adventure attached to it. I love it.
You take photos from helicopters, RIBs, and even onboard the boats. Which do you prefer?
[Laughs] Everyone always asks me the same! To me, they're all completely different. In a RIB, you feel closer to the water and the sailing, but in the helicopter you get a completely different perspective - not just the boat, but the landscape, the scale and the scenery. You have to think about the composition of the photo in a totally different way.
Your work always receives amazing feedback on our channels. How has the reaction been from sailing fans?
Amazing! Many people have been in touch to buy my photos, and I've had so many positive messages on social media and my website from people saying that they love my pictures, or they are inspired by a certain photo. They also send me their photos and ask for feedback, which I think is a really nice compliment. It's great to hear from Volvo Ocean Race fans, I really enjoy connecting with people who are passionate about the race and what I do.
And now you're back in Alicante, to give a masterclass to visitors in the Volvo Ocean Race Museum on Tuesday, March 1. Tell us more, and what to expect?
I'm going to give a 'masterclass', talking about my role during the last race. It's such a broad job to be the official race photographer, and there are many different sides to it. I'll talk about my equipment and how I adapt it to different situations such as the helicopter, the RIB, the plane. It's really different to work from a helicopter in comparison to on the water, and many people are fascinated to hear about that. I'll also give tips on how to create better photos and take questions from the crowd. It'll be a really interactive evening - not a presentation, but a fun discussion. I can't wait to meet everyone, and I'm really looking forward to sharing my experiences.
What three pieces of advice would you give to a budding sailing photographer?
1) Don't get seasick - otherwise, life will be hard for you!
2) Be super reactive – everything that can go wrong, will go wrong. You have to adapt every second, and when boats are racing there are no second chances.
3) Work hard and be passionate – it sounds like a glamorous job, but there will be a lot of sleepless nights and long plane journeys.