A driving ambition
'It's every kid's dream to be a skipper,' says Daryl
Not one to put his feet up, he jumped straight onboard supermaxi Comanche, helping skipper Ken Read and his crew to further success before 2015 closed out.
We caught up with the Kiwi to chat about life after the Race, future plans, and reflect on what many would call a perfect Volvo Ocean Race campaign.
Daryl – you've had a busy eight months since the end of the race. Tell us what you've been up to...
Well we had a great time at the Volvo Ocean Race prize-giving ceremony in Gothenburg, and then flew to Abu Dhabi for about 48 hours for another celebration! After that, I went straight over to the USA to help prepare Comanche for the Transatlantic Race, which began about a week after the end of the Volvo Ocean Race. It was awesome – we got the 24 hour record – and more recently, we won the Sydney to Hobart Race. In between all that, I've enjoyed a nice break at home, catching up with family and friends. There's always work to do around the house!
Wow - action packed! Did you feel that it was important to maintain the momentum you'd developed at the end of a successful Volvo Ocean Race campaign?
I was definitely keen to get straight back into it. Living in New Zealand, I knew that I'd get some time off over the Southern Hemisphere summer. Down in Wellington, where I live, there isn't a lot going on in the sailing scene over Christmas, so I knew there'd be the opportunity to rest eventually. I felt that after such a long race it was important to get back on board with a few different teams and continue learn my trade, so to speak. There are always things to learn, and people to learn from – particularly on a boat like Comanche, which is really high tech and loaded with some very, very good sailors.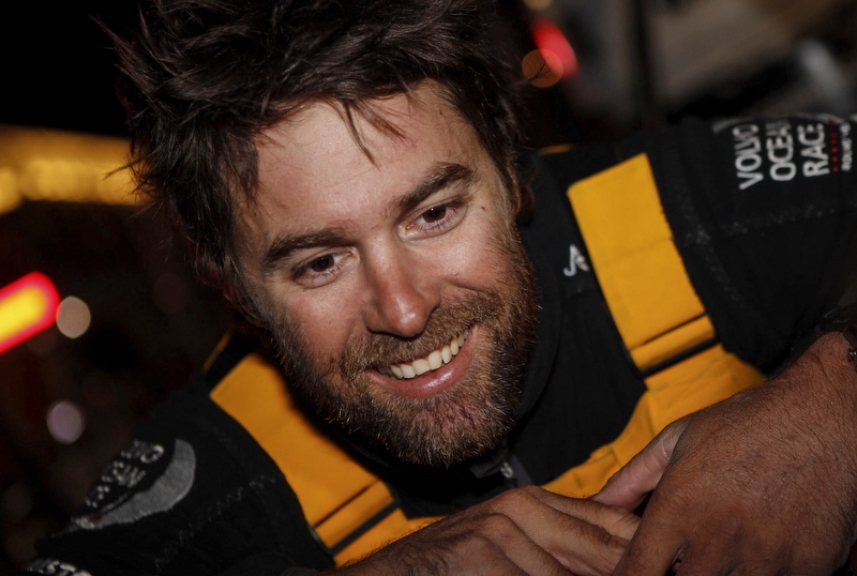 You've been lucky to race alongside some seriously experienced sailors in your last couple of Volvo Ocean Races. How valuable is that for a young, ambitious sailor?
For sure, it's hugely important to sail with experienced guys, otherwise, how do you learn? We saw it in the last Volvo Ocean Race – it's huge, and it always pays off in the end. You're part of a team and if you've got good sailors around you then it helps you to strive to be the best you can be. The professionalism of guys like Chris Nicholson, Stu Bannatyne and Tony Rae on CAMPER, and Ian Walker, Justin Slattery and Chuny on Abu Dhabi, makes every pro sailor want to be like them.
Those guys you mentioned have racked up over 30 Volvo Ocean Races between them. You've just completed your fourth. In your opinion, what is it that keeps bringing people back to this Race?
It's a hard one to nail. There's definitely the big sense of achievement of sailing around the world, but personally, I enjoy the mental aspect. The mental toughness and prolonged concentration you need just to be able to do it, never mind to do it well, is something that most people can't even grasp.
Your last Volvo Ocean Race campaign was a momentous one, not just because you won, but because it was also your first as a father. How does that affect your motivation for going back out there for such long periods of time?
It's tricky. You always say that you don't put yourself in harm's way as much as you used to, or something like that, but the fact is that it's still dangerous out there, and ultimately, you shouldn't really have been putting yourself in harm's way anyway! I think the biggest thing is missing out on the development of your child. Pearl was only born a couple of months before the 2014-15 edition began, and she was almost one by the time it ended. She's changed a huge amount, and has continued to change ever since. It's amazing to spend every day with her at home right now. That said, she's a little traveller. She's already done 59 flights, and she's only 18 months old.
You must have received an enormous reception, returning to New Zealand a Volvo Ocean Race winner. How was that, and how important is it for the Kiwi sailing community to have a Kiwi team in this Race?
I think the whole New Zealand sailing community would love to see it happen. Of course, it takes a lot of money, but whether that funding comes from New Zealand or overseas, the important thing is that if there was a New Zealand flagged boat, hopefully with a Kiwi skipper, there'd be huge engagement around the country. In 2011-12, we did a New Zealand tour with CAMPER, encouraging the public to come down and check out the boat. It's great to get locals involved, and bring sailing to the wider community. Of course, everyone has been congratulating me and is interested in what I, and we, as a team, have been doing since. It's great that there's been some media coverage, and the reaction on social media has been great too. It's really nice, as a pro athlete, to get recognition for your achievements.
You sailed every leg of the Abu Dhabi Ocean Racing campaign. How was Ian as a leader, and did you learn anything from the way that he led the team on and off the boat?
Sure. Ian did a tremendous job and it definitely wasn't easy, being part of the first fleet of the one-design racers. The pressure was huge and every decision made was critical. But ultimately, he showed that he made the big calls right, at the right time. There are heaps of things you can learn from a guy like Ian, whether it's the cool, calm way he deals with situations, or just having a chat at the end of sailing over a drink, he has so much experience to draw from. He's had a pretty tiring couple of races and to bounce back and win it on his third attempt was huge, not only for him, but for the whole team.
You're young and ambitious, and you have some key experience under your belt, too. Is leading a Volvo Ocean Race campaign something you'd like to do?
Definitely - I think it's every kid's dream to one day be a skipper. I think it's important to strive to develop and do something different on the boat. The first Volvo Ocean Race I did, I was the sailmaker with Movistar in 2005-06, the next I was onboard sailmaker/bowman with Telefónica Blue, and the next, bowman/trimmer/driver on CAMPER. Most recently, with Abu Dhabi, I was pitman/trimmer/driver. I think it's natural to want to take more responsibility as you gain more experience. My ambition is definitely to be the leader at some stage, and whether that's this coming edition, or another Volvo Ocean Race away remains to be seen. The main thing is that I have the willingness and drive to do it.
Which three words would you use to describe Abu Dhabi Ocean Racing's 2014-15 campaign?
[Thinks] Ooh, that's hard! I'd say 'driven', 'successful' and 'fun'.