A perfect fit
How MUSTO and the Volvo Ocean Race work hand in glove
Blazing sunshine, baseball-sized hail, icebergs as big as houses, electric thunderstorms. As the fleet traverses the globe over nine months, the sailors battle everything that Mother Nature has to throw at them - and their clothing has to be bulletproof enough to withstand it.
So what is a piece of kit worth to a Volvo Ocean Race sailor? I put that very question to Nigel Musto, whose father Keith, an Olympic medallist sailor himself, set up the MUSTO business in the 60s.
"What's it worth?" he laughs. "It's funny - at 2am, when it's blowing 40 knots and freezing, after three weeks at sea, the notion of value for money is completely different from when you're in a shop looking at price tags."
Let's face it: when you're heading to the Southern Ocean, clothing isn't about style, it's about survival. And when the chill sets in, it is, quite literally, a matter of life or death.
And that's why, when it comes to materials, Nigel's a man on a mission. Having been involved in every Volvo Ocean Race since 1981-82, it's fair to say that he's got the fashion of fabrics down to a fine art.
"The ocean kit we made for that Race was our first ever ocean kit, and the development of our brand has been so closely associated with the Volvo Ocean Race since then," he explains.
"That's because we put the effort in with the sailors, we know a lot about fabrics and how to make garments waterproof, and we understand the game."
It's this open and passionate approach that has seen MUSTO lead the way in terms of offshore gear for so long.
Following the Team Vestas Wind crash, Nigel spent hours debriefing with Chris Nicholson, Rob Salthouse and Tony Rae.
"I wasn't interested in how or why it happened, but just purely from a clothing perspective, I needed to know what we could improve - and it was fascinating," he says.
Needless to say, the shipwreck survivors had key feedback for the British manufacturer – 'really simple stuff', according to Nigel.
"After the initial panic, Nicholson called for survival suits," he recalls. "Now, the guys have got two pockets on the thighs and a big pouch pocket on the front of their smock, which they stuff full of safety equipment like knives and flares.
"The survival suit has one pocket on the leg, so after they'd wrestled their way out of their two-piece gear - in the pitch black, with the boat banging on the rocks - they had to transfer all their safety equipment, too.
It's the kind of small inconvenience that, dry and warm on shore, most of us would barely notice - but when you're stranded in the middle of the Indian Ocean, it's a lot more serious.
"It's so important to be able to get this kind of information from a real-life emergency," he says. "You very rarely get to talk to someone who's been in that situation. The kit for the next Volvo Ocean Race will have these lessons built into it.
"One of the things that came up is that everyone should have a safety 'fanny pack' or 'bum bag', with everything organised and designed to fit inside. You hang it on your bunk, and if something goes wrong, the first thing you do is grab it and you've got everything with you. It becomes second nature, like clipping on."
Indeed, the Volvo Ocean Race serves as a sort of constant testing environment, he explains. In the 2014-15 edition, a whole host of products were actually conceived and developed as the fleet raced around the world.
"We sat down with the teams at every stopover," Nigel adds. "A sailor would come to us with an idea at the end of one leg, and we'd do our best to implement that by the start of the next one.
"Underwear fabrics are an example. We had feedback from the first leg that our fast-dry shirts were a bit heavy and coarse to wear through the Tropics. The sailors want something that's UV protective, but feels like its not there. Two legs on, we had developed a new fabric that worked fantastically well.
He continues. "We also developed a new boot on the way round, with Charles Caudrelier. We were also back-to-back testing it on Abu Dhabi Ocean Racing, so by the end of the race, we'd actually produced 10 sets of gear, which had done 100,000 miles between them, tested in real-life conditions. For your average weekend sailor - our average customer - that's 10 years use."
And, indeed, it's not just elite athletes who can get their hands on these pioneering products.
"We don't put anything to market unless it's either done the majority of the Volvo Ocean Race or a Vendée Globe - that way, we can be absolutely confident that the consumer is going to get years of use out of it."
He smiles. "The Volvo Ocean Race course is our testing lab, and if it passes that test, then it goes to market."
And, Nigel believes that to these sailors, hurtling around the world on high-tech one-design racing machines, clothing has never been so important.
"I think that over the years, the goalposts have changed," he admits. "Back in 1981, it was good enough to keep the sailors warm and dry. Today that's not enough - they're athletes.
"With the Volvo Ocean 65, there is no difference in the boats, just the people. How do you keep people performing at their best? You keep them warm, dry and well fed.
"It's simple - if you don't do the warm and dry bit, they won't perform. And when there are no boat design advantages, if your crew aren't performing, you'll be at the back of the fleet. So over the years, it's become a performance factor."
But it's not just the clothes that have evolved since over the last three decades. According to Nigel, the whole make-up of a Volvo Ocean Race sailor has changed significantly, too.
"They've definitely got a lot fitter over the years," he continues. "Now, they operate on a different level - the level of professionalism is much higher, and there's no stone left unturned.
"If there's a detail that they can control, they will attempt to control it. Everything is managed – calorie intake, recovery periods, sleep.
He smiles. "When Grant Dalton was racing on Fisher and Paykel in the 1989-90 Whitbread, he insisted that all his crew cut their toothbrushes in half.
"It sounds stupid, but that mindset was everything. However he could save the weight - chopping it in half, drilling a hole in it - he would."
So will we see the Volvo Ocean Race gear evolve even further, becoming even lighter – or do the extreme conditions of this Race ensure that there is a bottom weight which simply cannot be bettered?
"I think we're at a pretty good weight now, and I'm not sure there's huge reason at the moment to go lighter," Nigel replies.
"The guys wear lighter stuff for some legs, but it's designed to be layered - that's the beauty of it. You can send someone out with two weights of underwear, two weights of middle layer, and two weights of foul weather gear, and there's a huge amount of combinations.
"The lightest we got to was in about 2001, with Grant, when he was at the peak of his toothbrush snapping days! We went super light with the foul weather gear and the guys almost froze to death. You see, there was nothing to stop the cold shock of the water hitting the outside of the gear and going straight through to the skin. Needless to say, after that, Grant went heavier again."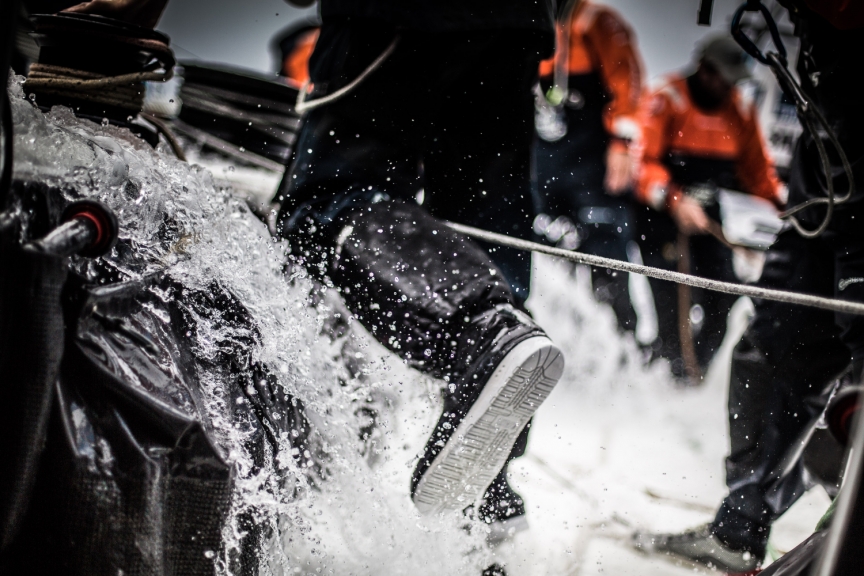 Is there any aspect of ocean gear that really plagues Nigel, I ask? A particular bug-bear that he's desperate to come up with an invention for?
"I'd love to solve hands and heads," he admits. "I don't think anyone has come up with a proper solution for them yet.
"The problem is being able to use your fingers. You don't want them bulky, but the blood vessels that run through your fingers are so fine and close to the surface that they make a massive percentage of your total heat loss. It's catch 22 - if you want to be thin and flexible, you're going to lose the heat.
"There are new wonder fabrics coming out all the time, but until they've been in the Southern Ocean, used by guys we trust for an extended amount of time, it's no good to us. The last big breakthrough was in 1994, with Gore-Tex."
He smiles. "No other membrane has done a Volvo Ocean Race and not leaked. That's the ultimate testing ground."