A vintage year
Walker finally finds time to reflect on a glorious 12 months
As ever, he's full of opinions about the sport and how the race could develop further – and he's not ruling out a further tilt at that coveted huge silver-ringed trophy again in 2017-18.
Ian, can you tell us a little bit about your reflections on the race six months on and what you've been up to since then?
It's funny. I've just sent an email to all of the team and that made me think back to what a great year we had and how much we achieved as a group. It seems a long time ago already. Since then, it took us a number of months to do all the formalities of finishing the campaign, the finances and all the contractual stuff we have to do with Abu Dhabi and evaluations. But other than that I've just been spending time with the family and getting away from it all.
Has there been time when you've been able to enjoy the aftermath glow of achievement winning the race?
In some regards, I've been struggling a little. Not helped by everybody asking me what I'm doing next! It's taken a number of years to achieve this victory. For the first time, probably ever, I've not really seen an achievement like this as a stepping-stone to something else. When I won the Olympic medals (two silvers), it was immediately on into professional sailing, the America's Cup and then to the Volvo Ocean Race.
Now I'm not really sure what I want to do next. So it's been hard to answer the people asking that question. What I've decided is that I've got to get back racing, particularly inshore racing, because if you don't race, train and practise then you don't remain any good and it will slowly fall away. So I think you have to train and race to stay sharp while you work out what you want to do next.
How exhausting has it been dealing with all the awards ceremonies, press commitments and so on since you won the race?
I've done a lot of talks about the campaign and the race. I have a very extended network of sailing clubs, friends and contacts and people who have helped me over the years. I've done talks in Hong Kong, Ireland, Switzerland, Abu Dhabi and Dubai. So I've done quite a lot of travelling and talking about the programme and the race.
It also feels strange since the whole race is about the team and everything what we achieved as a group and then literally the race ends, the team effectively evaporates, apart from the management group who are winding it all up, and then it feels like I'm the lone flag-waver that's left. The awards are not about what I've achieved – they're about what the team achieved. It was really good fun to go to the Royal Ocean Racing Club and take Guy Barron, and Phil Harmer was there, and share in winning that trophy, the RORC Yacht of the Year Trophy, as a group, albeit a smaller one than in the actual race.
Has the crew been together since you went from Gothenburg to Abu Dhabi post race to show off the trophy?
No, we scattered to all four corners of the world. Daryl Wislang is in New Zealand, Luke Parkinson and Louis Sinclair have been in the America's Cup so predominantly in Bermuda. Chuny (Roberto Bermúdez de Castro) has been in Spain a lot. We've seen each other at regattas or the World Series events but no, not really. I see the shore crew more. I have done a lot of miles but mainly on aeroplanes – not on boats.
Now that you've won the Volvo Ocean Race, are there any more mountains to climb for you as a professional sailor?
Wow, that's a big question. Obviously, you'd like to win everything you enter. It's all about getting the right programme, the right team together and being in the right place at the right time. I think, realistically, I'm not going to have a role in an America's Cup boat any more. I think the way that's moved on precludes that and I don't think there's any other event in sailing that could rival the Volvo Ocean Race or indeed the Olympics thinking back that far.
There's a lot of great events still, and obviously the TP52s is something I've been very successful in before, but it's got very new boats now, probably the most competitive racing out there. I've got a lot of sailing lined up. There's a lot more sailing than there are days where I'm not sailing in the next 12 months. And I'm still hoping that Abu Dhabi Ocean Racing will re-enter the next Volvo Ocean Race and I'd love to have a role in that having been involved from the start.
Looking back, why do you think you were so successful in the 2014-15 race?
The successful team in the last however many races, maybe every one since the start, have had their funding in place early and have been able to make their decisions from the outset based on performance. There haven't been compromise decisions in terms of lack of design, or late building of boat or not being able to get the people that you wanted. So we were in that very fortunate position to be able to make decisions based on what we thought would win usthe race. Everything therefore revolved around winning the race.
We obviously learned a lot from previous races although much of that was no longer relevant with the one-design. We made a very good plan and we hired some very good people, giving them adequate resources to do their jobs well. From the outset, we really had very few setbacks all through the training period. The only thing we had that made life difficult were bouts of illness within the team, despite going to great lengths to ensure that in terms of diet, cleanliness, vitamin supplements etc, everything was okay.
You certainly looked to be very relaxed when you arrived in Alicante pre-race. You must have known you were in with a pretty good chance this time.
When I saw the other teams I knew that we were better organised than most of them. Obviously, some teams were very, very late, like Team Vestas Wind and MAPFRE to a large extent. We'd sailed against most of the teams in the Round Britain and Ireland Race and some of them in the Artemis Challenge, so we had actually measured up against them. I knew that our training had gone well, I knew that we'd learned quite a lot and that we took quite a long time to learn some of it, three or four months to learn a few key lessons.
So I assumed that teams starting later may well not have learned those key lessons yet. I felt confident and I even said to the sponsors that I was very optimistic we'd be in the top three. But you don´t really know until you're out on the ocean and there were some surprises – Dongfeng Race Team's downwind speed and speed in the light was a surprise to everybody, maybe even them. That really was the biggest threat to us overall.
You started with a very clear game plan to podium in every leg and you felt that if you achieved that then by Lisbon you'd be in with a pretty good chance and so it proved.
That plan was always going to work if other boats were inconsistent. As long as other people were getting inconsistent results that was going to be the way to win the series, just like an Olympic regatta. But even I was starting to question it by the time we got to China or Auckland because Dongfeng were also managing to get on the podium on each of the legs. At that point, it started to look like that wasn't going to be enough to win and actually you needed to get some first or second places. It wasn't going to be enough to finish third in each leg.
But as it happened, Dongfeng had a breakage (in Leg 5), they finished last in Leg 8 into Lorient and didn't do well in Leg 7 into Lisbon. Looking back now, although it didn't look like it at the time, probably where we won the race was when Team Brunel went from first to sixth in Leg 4 from China to Auckland. Actually, having concentrated on Dongfeng the whole time, ironically Brunel were our closest competition. It's easy to forget moments like that.
Turning to your own performance, do you feel that you developed much as a skipper between 2011-12 and 2014-15, both on board Abu Dhabi Ocean Racing boats? Did your style change?
Being my third race and being careful to hire people who would believe in me come what may, I felt in a more comfortable position in this race. Imagine skippering my first race when I'd never done it before, that was incredibly difficult. Skippering the second time, I think would have been fine if we'd have had a fast boat. I actually believe we had a strong team and were better organised than several of the teams that did better than us.
And we had some fantastic sailors. Had we had the performance on the water we probably would have had a fairly successful team. But there wasn't to be and that undermined everything else. It's very hard to look like a tactical genius or be a great navigator or great skipper if your boat is slow. This time, Simon Fisher was a very deliberate choice because I felt he was someone who would listen to me and I'd listen to him and we could have a good partnership. That was crucial because ultimately it's a tactical race now.
The other thing that made quite a big difference was the watch system in an eight strong crew. In previous races, the skipper wasn't in a watch system. It's very hard to really feel part of the crew unless you're up with them on the deck for large periods of time.
There have been skippers in the past who've hardly ever gone on deck and even ones like that who have won the race. Certainly for me, I enjoyed it a lot more being part of a watch and having to stand my watch four hours in, four hours out because it makes you feel more like one of the boys that somebody who is outside of that.
You seemed very much to lead from the front in this race? There were times you actually looked totally exhausted?
In the 2011-12 race, you could sleep when you wanted to and not sleep when you didn't want to. You had to be up when the navigator was asleep but you kind of run your own programme. The boat, basically, was capable of operating without you. In this race, not only do you have to do a watch but you were involved in every decision that gets made.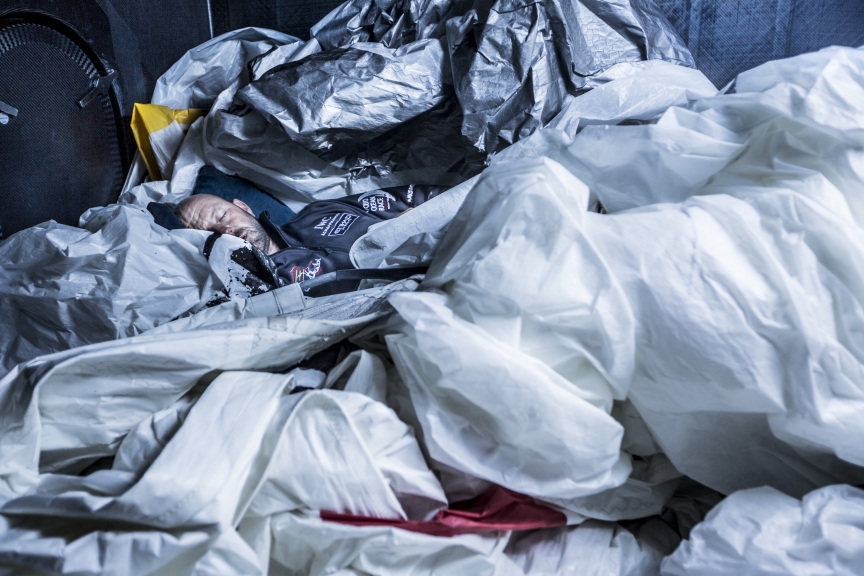 Therefore, there's plenty to do when you're off watch and if you're not making a decision, you're worrying about it. The hardest thing is the ability to switch off when you're not on watch enough to sleep, otherwise you're tired when you get back on watch. So you have to be able to switch off – which has never been my strong point.
What's toughest - skippering a winning boat when the pressure is on all the time, or a losing one where you're scrapping for every position, trying to avoid embarrassment?
Once the world can see you've got speed issues, then the pressure comes off you a slight bit. This race we carried the burden of being race leaders and having the pressure of trying not to lose the race. So we certainly had a lot more pressure. In previous races, it was completely the opposite. Tactically, we were trying to take risks and trying to find the golden ticket each time because that was the only way we could get a result unless everybody else broke down. So in many ways we could sail with relatively little pressure.
What was very draining in the previous race was leading a team that was underperforming, trying to make people still believe when you yourself deep down knew you had no chance. Trying to keep a brave face so that everybody still gives their all which is what the sponsors demand and deserve. That was very mentally draining plus the financial pressure because of our breakages in those two previous races.
What is the current situation with Abu Dhabi Ocean Racing returning to defend?
First of all, we will find out in January whether they will re-enter. It's a 50-50 call right now. Secondly, it's what management team they want and we need to sit down and discuss what they're trying to achieve, what sort of team they want and how we're going to go about it. Then will come the discussion who will sail the boat. From my own personal point of view, my biggest commitment must be for my family and whether I feel able to spend that much time away from home again. As my children are at that pretty crucial school age period, it's a big call.
Having said that, the race is well and truly in my blood now and we know an awful lot about it, and it's hard to imagine not being involved in some shape or form. At this stage, you don't worry about it until it's become a problem and it's not a problem until someone has asked you to be involved. What I'm not doing is running around to try to raise sponsorship. If I do the next race, it'll be because Abu Dhabi Ocean Racing want to do the race again or because someone else has asked me. I don't have the energy as yet to run around and create and run my own team. I'm pretty welded to Abu Dhabi Ocean Racing.
You have a lot of opinions about the way the race is run so how would you guide the event looking beyond 2017-18 that will run again on the Volvo Ocean 65s?

I think they will need to do some changes in the next race so there's a different story – the route is the most obvious one, and maybe the sails, the way the Notice of Race and rules are written, the points system, maybe the crew composition, particularly for the In-Port Races. Maybe shuffle up that whole format because I do believe that those last four or five days before a leg start are reasonably untenable for the teams and sailors, it's getting so busy commercially.
They need to make some fundamental decisions about how far they're going to go in terms of information off of the boats. I don't have a strong view on that. Obviously, broadband speeds are going to be way faster. When we're going to get to the stage fairly soon where if you wanted to have real, live information and images coming off the boat you probably would be able to do that.
So there are big decisions there about whether that is good for the race, the sponsors, the sailors and how much it detracts from the sporting and competitive side of it. Someone's got to make a call, as long as that call is made before people are deciding whether they want to do the race or not, based on those circumstances.
Looking ahead, I really don't think we can race the Volvo Ocean 65s in 2020-21. I think the race should stay at the pinnacle of grand prix, fully-crewed racing. You've got to make it desirable for the best sailors in the world to want to do it. But that creates a difficult problem because it means you've got to build a new fleet of boats in time and someone's got to take the financial risk of building it before knowing that anyone's going to buy it. And that's a massive commitment.
Do you think the future of the race will always be monohull­?
My worry with the multi-hulls is that there will always be 100-footers going around tons faster, and the race, I don't think, will ever support the cost of those giant trimarans. So whatever Volvo Ocean Race does, I don't think it can get a lot more expensive than it is now to get the teams to enter. I'm not an expert in the relative costs between mono and multihulls, but I could see the boats potentially getting smaller with smaller crew.
If there were, say, 15 45-footers made for, say, four crew, you could probably guarantee you'd get teams in the race. Then you got to ask yourself what about 15 50-footers with six crew and then 15 65-footers, as we are, with eight crew. At what point does it become economically not viable? Ultimately, that will be the key component.
I'm a fan of one-design but it would be interesting to see some element of design come back into the race if it could be done with a cost-controlled manner. But we all know the downsides – as soon as you open up the design space at all you run the risk of a team coming in and spending a huge amount of money.
Talking of the way an event should be run, have you ever thought of turning poacher to gamekeeper and managing a race yourself­?
That's a possibility but at the moment I think I've got a lot to offer on the sailing side and as I said earlier, I plan to do a lot of sailing in the next year, more inshore than offshore, but not solely. And I'd love to run a team. I've always been involved in way more than the actual sailing of the boat, maybe one of my weaknesses has been that I've been way too involved in many other regards such as financing, personnel, legal stuff and rules, sponsors management. It's not like I'm ill-educated on that side. It would be great if I could run Abu Dhabi Ocean Racing and maybe there's space to do some of the race, coach the team, there are potentially a lot of options.