Fan favourites
Trio of Race images voted top three best sailing images of the year by public
The award saw the sport's best photographers send in their entries in a bid to win the famous prize - and the Race went up against other events such as the America's Cup, the TP52 Cup and classic yacht regattas.
The shortlist was whittled down by a panel of expert judges, and then the remaining entries were put to the ultimate test: the public vote, via the internet.
Nearly 40,000 votes were cast, and the page received over 1.4 million views during the voting process.
Did you get chance to vote? Well, hopefully, because right now, it's too late. Time is up, the votes have been cast - and the results are in.
*drumroll please*
First place: Rick Tomlinson's photo of Team Brunel
When we sent the British photographer up in a helicopter to capture an unforgettable moment as the fleet was racing around Cape Horn, we knew that he would deliver something special - and his image of Team Brunel almost fully submerged in the icy Southern Ocean wowed the fans so much that they gave him first prize.
Here's Rick inspecting his photos with helicopter pilot Mario Lira after touching down in Chile.
Second place: Brian Carlin's photo of Team Vestas Wind
The heartbreaking image of the blue boat stranded on the Cargados Carajos Shoals, somewhere in the middle of the Indian Ocean, could well go down as one of the most memorable photos in Volvo Ocean Race history. The public certainly think so - and voted it into second place in the contest.
Brian's photo also received a special mention - winning the 2015 Yacht Racing Image 'Most Iconic Image' award, as judged by a panel of experts.
Third place: Stefan Coppers' photo of Team Brunel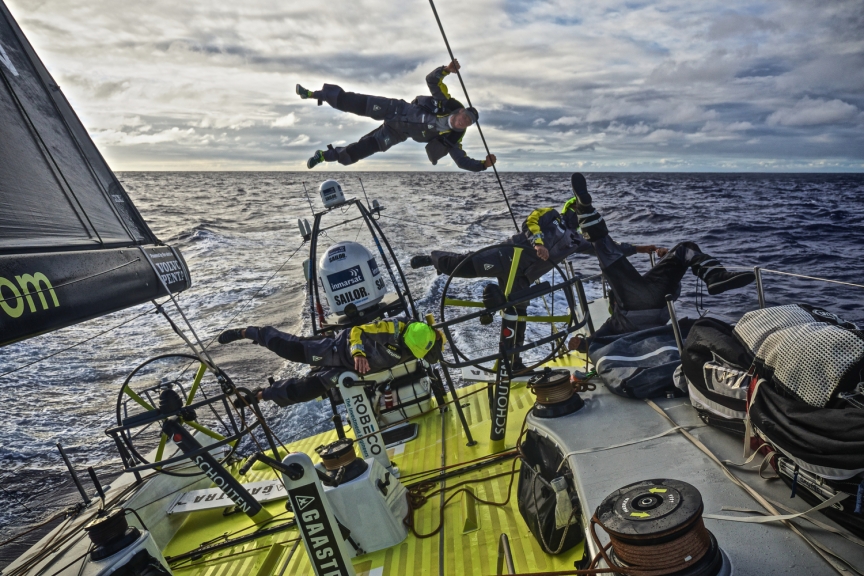 Is it a bird? Is it a plane? Um, no: it's just Rokas Milevicius... flying... somewhere in the South China Sea. Do not adjust your screen, this photo is real, and it's testament to the creativity shown by our OBRs, even in the toughest environments on the planet. Thanks to the public's votes, Stefan's awesome photo won third prize in the contest, and we think it's more than deserving of a place on the podium.
Congratulations to the trio - and indeed all of our photographers for their outstanding talent and passion.