Picture perfect
Volvo Ocean Race stars in Mirabaud Yacht Racing Image 2015 contest
Every year, it pits the world's best marine photographers against each other in a bid to find one who has pushed new limits, been super creative, all at full speed and in the blink of an eye.
And to think, I can barely take a selfie without leaving my thumb over the lens.
ANYWAY. If it's fast boats, epic conditions, and human emotion you want, then the Volvo Ocean Race is the adventure for you.
That's why we've made the shortlist for the award features not one, not two, but nine Volvo Ocean Race images - some from our OBRs and some from our staff photographers, tasked with doing whatever it takes - sea or sky - to grab the perfect shot.
Here are the Volvo Ocean Race nominations (in alphabetical order - please view all before voting). Make yourself comfortable, have a browse, and make your selection by clicking on the relevant link.
The contest runs until November 30 - and the top 20 photos will be printed in order to be exhibited at the Yacht Racing Forum, where delegates will select the winner.
---
Ainhoa Sanchez
Where: Cape Town
When: Leg 2 start
The official Volvo Ocean Race photographer brought us some stunning images over the nine-month marathon - but this shot of the boats charging out of Cape Town bay in 40 knot winds takes some beating.
Like this? VOTE HERE
---
Brian Carlin
Where: Cargados Carajos Shoals, somewhere in the Indian Ocean
When: Leg 2
The Irish OBR captured every single moment of the Team Vestas Wind incident when they grounded their boat in the middle of the Indian Ocean, and this snapshot underlines the stricken sailors' disappointment as they inspect the damage the next morning.
Like this? VOTE HERE
---
Corinna Halloran
Where: The Atlantic Ocean Doldrums
When: Leg 6
Team SCA's OBR Corinna takes us right back to Leg 6 - and a battle with the elements, as the all-female team attempt to navigate the notoriously tricky Doldrums of the Atlantic Ocean.
Like this? VOTE HERE
---
Francisco Vignale
Where: The Indian Ocean
When: Leg 3
Argentinian adventurer Fran Vignale captures this action shot which portrays the incredible energy onboard during a rough and ready Indian Ocean crossing. MAPFRE sailor Carlos Hernández battles against the waves as they pummel him in the face. My socks feel wet just looking at it.
Like this? VOTE HERE
---
Marc Bow
Where: Cape Town
When: Leg 2 start
Cape Town is known for its epic sunsets - and local boy Marc Bow captures a picture-postcard example as the blazing sun drenches Dongfeng Race Team in light during their exit from the South African port.
Like this? VOTE HERE
---
Matt Knighton
Where: The Southern Ocean
When: Leg 5
As thousands of watery marbles spill onto the deck, Abu Dhabi Ocean Racing navigator Simon Fisher turns away from another icy wave as his team battles the Southern Ocean.
Like this? VOTE HERE
---
Rick Tomlinson
Where: Cape Horn
When: Leg 5
Not many people get the opportunity to get aerial shots of Cape Horn - and when we sent photographer Rick Tomlinson down to the bottom of the world to capture the boats rounding the infamous landmark in a helicopter, he grabbed this epic image.
Like this? VOTE HERE
---
Sam Greenfield
Where: The Pacific Ocean
When: Leg 4
Dongfeng Race Team's stand-in OBR perfectly portrays life onboard, as Kevin Escoffier performs a rare onboard act - taking a sunrise shower.
Like this? VOTE HERE
---
Stefan Coppers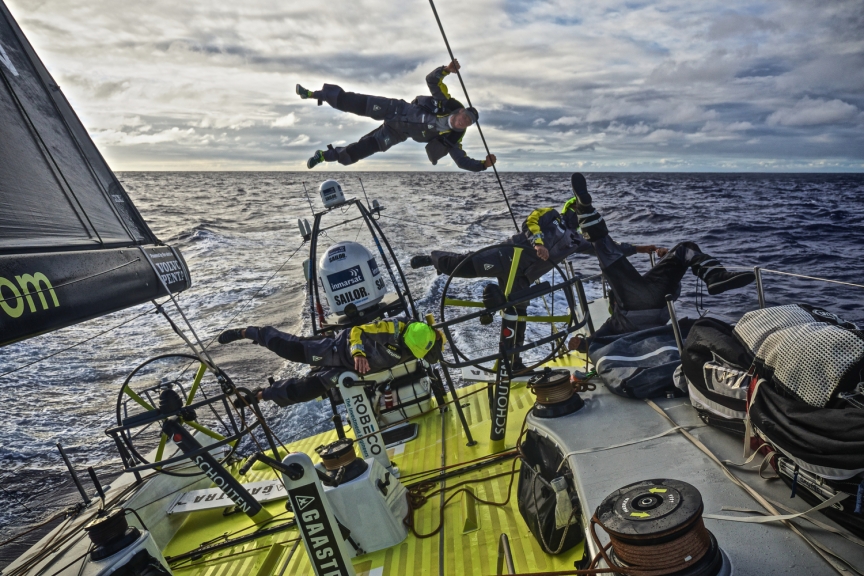 Where: South China Sea
When: Leg 4
Is it a bird? Is it a plane? Nope, it's just Lithuanian legend Rokas Milevicius, um, flying. No-one quite knows how Stefan got this anti-gravity shot, and so far he's keeping his lips sealed.
Like this? VOTE HERE
---
Yann Riou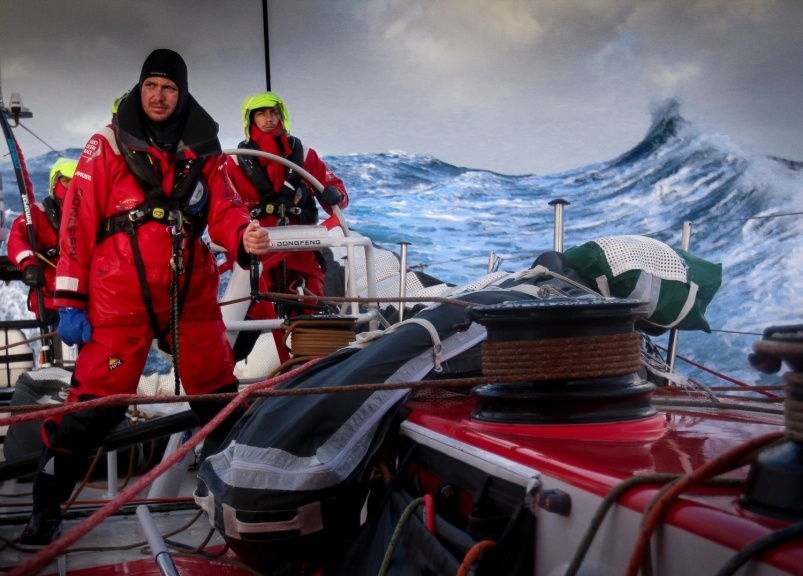 Where: The Southern Ocean
When: Leg 5
They say that in the Southern Ocean the waves are as big as houses - and here's proof! Dongfeng OBR Yann Riou grabs an insane shot of the angry seas as his team races through the toughest ocean on the planet.
Like this? VOTE HERE
PS. If you're a stickler for the rules, you can view them here.