The learning curve
Team Alvimedica's Charlie and Will reflect on a milestone race
"It's certainly been a long and involved maturation process," he laughs. "It kind of feels like a pregnancy, which is funny, because my wife is pregnant right now!"
It's 260 days since the Volvo Ocean Race began, back in Alicante, but it's been a hell of a learning curve for this first-time skipper.
In that time, he's turned 30, skippered a Volvo Ocean 65, been around the world, rounded Cape Horn, won a leg, won an In-Port, and even found enough, um, personal time to be expecting an imminent, exciting arrival.
And he's taken it all in his stride, too. So what's his secret? "I think the only way to prepare for this race is to do it," shrugs the American.
"We gained a lot of experience through doing, whether that's boat speed, finding efficiencies amongst the group to see how we could best work together, the division of labour, or the relationship between Will and I."
He pauses. "We didn't have a ton of experience in the beginning, but now we've circumnavigated the planet – and we feel better for it."
They were dubbed the 'young guns' as they assembled on the Spanish start line. Three of the crew under 30, five lining up for their first round the world race.
Only one – wily navigator Will Oxley – had been around the mecca of offshore sailing, Cape Horn.
"I said at the beginning that our learning curve was going to be steeper than anyone else's, and that we'd continually improve throughout the race," says the Australian, who has just completed his fourth race.
"For me, the defining moment in the race was when we rounded Cape Horn in first place."
It was an historic moment during Leg 5, as the orange boat raced past the landmark on a beautiful day, in perfect sailing conditions.
"I've been trying to get here for a third of my life," said an awe-inspired Charlie at the time, salt spray high-fiving his face. Now, on dry land, the moment is no less special for the Rhode Islander.
"Oh yeah, Cape Horn stands out," he says, as I probe him for his highlight of the edition.
"It's a big goal for every offshore sailor, and to do it in the fashion that we did, you couldn't script it."
Will continues. "It was a long, tough ocean leg which required a very high level of seamanship and the ability to sail a boat fast in difficult conditions. We had no Chinese gybes, no sail damage, we got through that leg unscathed and in good shape.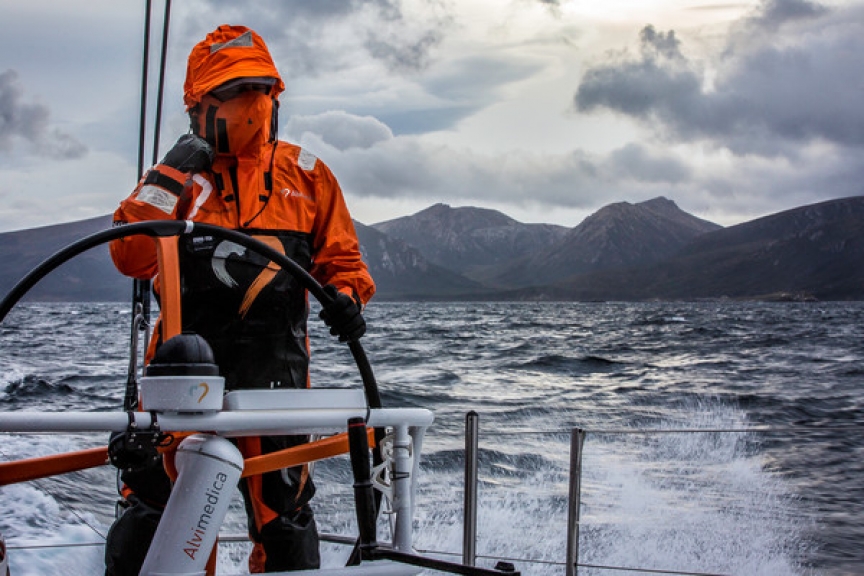 "It sounds corny but the boys became men as we went around Cape Horn. From that moment on, we competed for the podium, and as Charlie said at the time, 'okay, now we're ready to race around the world'."
It was March 30, 2015. Nearly halfway through this 40,000 nautical mile adventure, when the Turkish-Americans finally felt ready to tackle the toughest race in the world.
"If you're not 'on' all the time, someone else is, and you'll fall behind," says the skipper. "I found it way more mentally taxing than physically taxing.
"Even when you're in your bunk trying to sleep, you're thinking three moves ahead, how you can beat the competition, how you can be faster."
"You've got to be playing chess and hoping that everyone else is playing chequers."
He continues. "It's been a lot of hard work, but we've shown improvement throughout the course of the whole race, and the final result encapsulates that."
Indeed, it was in Leg 9, racing into Volvo's home town of Gothenburg, Sweden, that Team Alvimedica grabbed their first leg win of the edition – a result that meant that every one of these seven teams had scooped first place at some point.
"It was a tricky leg physically and mentally, with it being broken up into two - a lot of tough decisions, but thanks to the guys on board, we got a lot of those right."
And the hardest moment? Charlie pauses, to think."From a competition side, it was very difficult for me to have a poor result sailing into my home town of Newport," he admits.
"From the life at the extreme, adventure side of things, no one will ever forget the night we spent just off a reef, helping Team Vestas Wind to evacuate their stricken boat."
It seems a long time ago now. Leg 2, right in the middle of the vast Indian Ocean, when the Danish boat got into trouble – serious trouble - just as darkness fell.
Team Alvimedica, the closest boat to the crew, diverted course and sat across the rocks, helping Chris Nicholson and his sailors to safety.
For Will, it was extra tough. He sailed with most of the Vestas crew onboard CAMPER last edition, and counts them as close friends.
"That night might have been the most important thing we've done in this race," he says, shaking his head. "It put everything into perspective."
So how did the 50-year-old find life on the youngest boat in the race?
"The interesting thing for me was there wasn't the expectation that we'd win that there was with CAMPER," he says. "The pressure was very different - it was about me transferring information and knowledge across to these guys.
"I'm passionate about sailing but I'm also passionate about education and the art of navigation. This role allowed me to do both.
"Luckily I had one of the best learners I've ever had, in Charlie. He literally soaked it up as quickly as I could hand it over. That's very rewarding."
And did these young guns teach anything to their sea-salty, experienced navigator, with over 250,000 miles under his belt?
He pauses, and smiles. "You know, we get very serious, us Aussies and Kiwis, in our sailing. Very focused.
"I've been reminded that it's important to have fun and enjoy it, too. As you get to the latter part of your career, you can forget why you're there. But I've been reminded every day that I'm out on the ocean because I love it, and I feel very lucky."
So where to now, for Charlie and his crew? Will we see them at the start line of the next edition?
Well, this race has certainly go under his skin, says Charlie. "I think we'd all love to, even though sometimes it's harder to get to the start line than to actually do the race.
"It's a business, and it takes sponsorship. We're all ears - it's just about finding that relationship."
The skipper, who has gained a new perspective, a few new wrinkles, and a lot of sea miles and memories since the beginning of this adventure, smiles.
"I think this race takes a complete sailor. By doing one, you're training to do another."