Reducing our single-use plastic footprint
Our Sustainability Partner Stena Recycling was instrumental in helping Volvo Ocean Race collect the different types of waste in the Race Village during the Gothenburg stopover.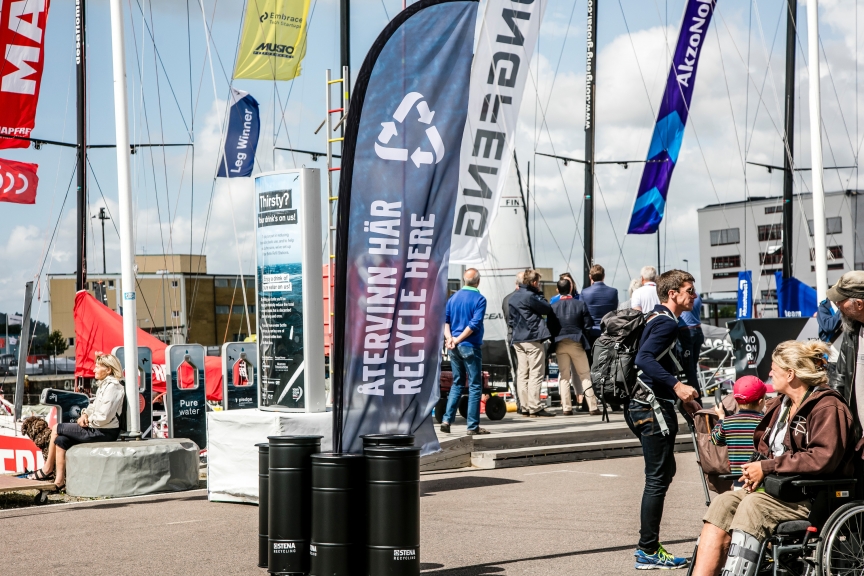 To reduce our plastic footprint, food serviceware such as plates, cups, and cutlery were compostable, and along with food waste, were collected in attractively designed bins for onward processing into valuable organic fertiliser.
The Swedish company also used their presence at the stopover to inform visitors of importance of recovering all plastic at the end of its life. The different types of plastic, the recycling options and what can be made out of the recycled plastic were on display.
Meegan Jones, Volvo Ocean Race Sustainability Programme Manager, said: "With the help of Stena Recycling and through our onsite initiatives, we were able to closely match the types of resources generated by the Race Village and ensure responsible recovery and processing of these to feed the circular economy.
"We take our responsibility to educate, inform and showcase best practice very seriously and through our resource recovery efforts we make sure s little as possible is lost to landfill."
Stena Recycling has been involved in the business since 1939 and currently recycles over 220,000 cars each year.
The company process some of these scrapped cars in the Stena Nordic Recycling Centre, their state of the art recycling complex in Halmstad, where they return 650,000 tonnes of raw materials back into circulation every year.

At 433,000 square metres, the Swedish facility, which is the size of 80 football pitches, uses proven technology combined with new innovation as part of a circular economy approach.
With 95 per cent recycling rates for scrapped cars, the facility enables them to avoid sending materials long distances for further processing thus reducing the ecological footprint.
By the time a car has gone through the entire recycling process, it will have been broken down into around 30 different grades of material, including plastics and metal. These are then used to make materials that can be turned into a range of new products, including car parts.
Kristofer Sundsgård, CEO Stena Recycling, said: "As Sweden's leading recycling company, we see great opportunities for spreading knowledge about sustainable recycling solutions through the Volvo Ocean Race."