Daily Digest - Sunday 6 May
All the best content from the past 24 hours of the race in one place
It's approximately 36 hours until the leaders reach the finish line and it's game on.
Will Bouwe Bekking prove that Brunel can stay on top of their winning streak or will Dongfeng Race Team take their first leg victory? Can Vestas 11th Hour Racing make an epic comeback or will it be Turn the Tide on Plastic that claim their first EVER podium?
Read the latest from the race track here.
This race visits some of the most extraordinary places on earth and there is no place more bizarre than the Bermuda Triangle. As our fleet pass through this mysterious 'location' here are 10 things you need to know.
It's a 24/7 battle for every mile and there's nothing more reassuring than knowing your competitiors are behind you. Here is Blair Tuke making sure team AkzoNobel are still to MAPFRE's rear.
It's been a bitter-sweet ride for Turn the Tide on Plastic so far. They have proved they can keep up with the rest of the fleet and apply pressure to the rankings but they have yet to make the podium. This tweet from Irish sailor Annalise Murphy reminds us just what a podium position would mean for the team. If you would like to send a message of support as they make the final push to Newport you can email the boat at tttopsailors@deecaffari.com
Final push into the finish in Newport, in the hunt for a podium finish! This leg has been much faster then we thought it would be! #volvooce pic.twitter.com/DbepYfjWt0

— Annalise Murphy (@Annalise_Murphy) May 6, 2018
As the rain pours here in Newport we were feeling quite sorry for ourselves, that is until we saw this tweet from Liz Wardley.
Ever get the drowned rat feeling... sending it into Newport, 450nm to go with 30knots on the forecast, yippee!!! #badhairday pic.twitter.com/MKwZrUvJYL

— Liz Wardley (@LizWardley) May 6, 2018
They've known each other since they were children, now they're racing around the world together. Here's Nina Curtis and Kyle Langford enjoying a warm meal and each other's company after a long watch.
Abby Ehler might be accomplishing her life-long dream but that doesn't make it any easier to leave her son Harley on the dock. For all the parents out there, this one's for you.
Ever wondered what the food tastes like onboard a Volvo Ocean 65 after 15 days at sea? Jeremie Lecaudey can tell you in his latest blog 'A Taste of the Ocean'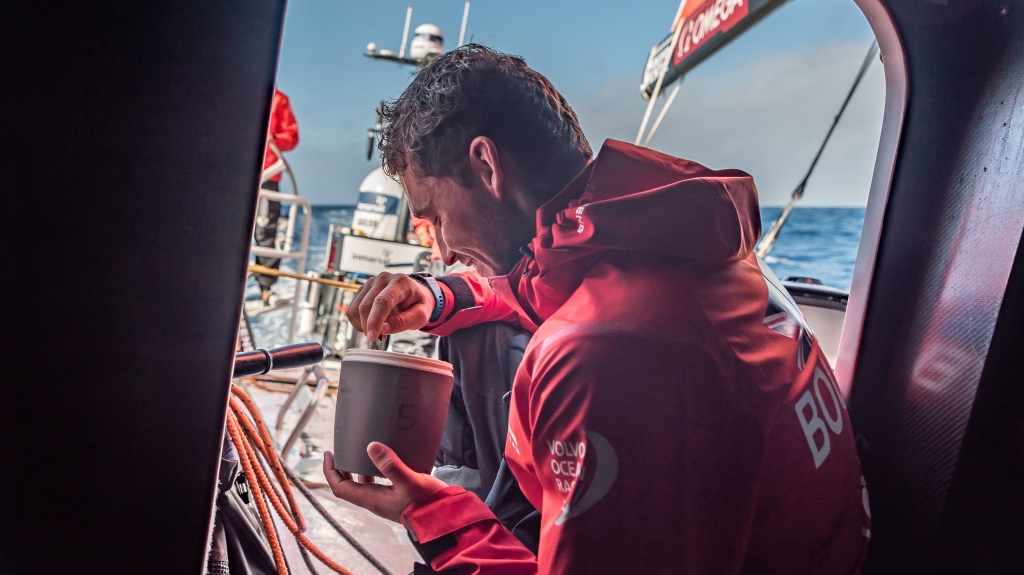 And finally to finish off today's Daily Digest, take a moment to enjoy these truly stunning black and white photos from Brian Carlin onboard team AkzoNobel. Which is your favourite? Talk to us on social media using #VolvoOceanRace
Don't forget to download the Volvo Ocean Race App ahead of the arrivals and follow @RaceExperts on Twitter for all the latest ETAs.
----------
Did you know that all the incredible content delivered from the boats is made possible by Inmarsat? You can follow them on Twitter here.