Daily Digest - Sunday 29 April
Today's content from all around the Volvo Ocean Race
Free of the Brazilian coast and making their way to the Doldrums, four teams are now within four miles of the lead as Leg 8 of the Volvo Ocean Race enters its second week. Read about how the race is heating up here.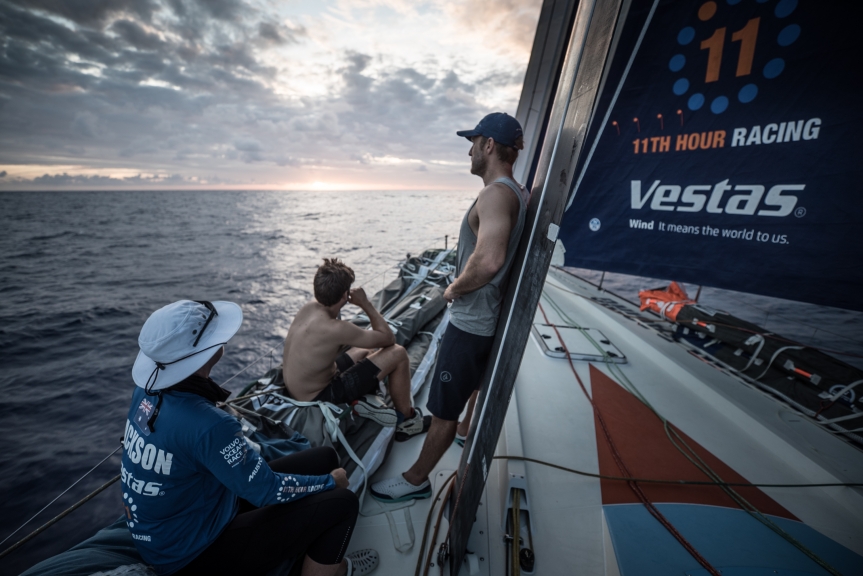 In relatively light winds, the pressure on the crews is higher than ever. Before we get into today's content you can remind yourself who is sailing Leg 8 with our crew lists here.
Now, if you're an avid race follower there is no better way to keep updated than via our social media channels - particularly via @RaceExperts. The team provide 24/7 updates on the fleets movements from Race HQ in Alicante, check out their latest post below and get involved by following them on Twitter.
0700utc A night of gybing as the boats work their way along the Brazilian coast near Natal. @Vestas11thHour , @DongfengRacing & @brunelsailing have all made gains on TTOP over the last 6 hours. Only 6 miles between first and fourth #WatchLog pic.twitter.com/tdo1xFpK1v

— Race Experts (@RaceExperts) April 29, 2018
Another great way to keep updated is to tune in to our Daily Live. Today's show involved a few jealous sailors onboard Brunel after an encounter with a container ship and a real time update from Turn the Tide on Plastic as they maintain their strong position within the fleet.
Whilst you're waking up and enjoying your nice warm bed on this Sunday morning, for the Volvo Ocean Race sailors in these pictures, it's just another day in the office...
Now, it doesn't last for long but here is a picture of Luke Molloy onboard team AkzoNobel trying to clean the salt water off his skin using fresh water from the water maker below deck.
Another picture from Brian Carlin onboard team AkzoNobel shows how close the living confinements are onboard. Imagine living like this for up to 28 days at a time?
As the pressure of racing affects all the crews, it's often the skippers and navigators who feel it the most. In this video Libby Greenhalgh explains how to deal with that pressure and overcome it in the best way possible.
And finally, for the past 24 hours a Rubix Cube has been the main source of entertainments for the crew onboard Dongfeng Race Team. A present to Charles Caudrelier from his son 'in case he got bored' - check out how this tiny Rubix Cube has made itself very popular onboard the red Volvo Ocean 65.
Don't forget to download the Volvo Ocean Race App all the latest updates.
Did you know that all the incredible content delivered from the boats is made possible by Inmarsat? You can follow them on Twitter here.