Leg 7 Strategic Review Part 3 – Keeping going
It's been a very sad week for everyone on the Volvo Ocean Race with the loss of John Fisher from Team Sun Hung Kai/Scallywag. Along with everyone else I can only offer my deepest sympathy to his family, friends and the crew aboard Scallywag.
It almost feels like the weather has been reflecting the dark and tragic mood as one front after another has rolled over the fleet bringing bleak and extreme conditions; big waves, squalls and all accompanied by a constant, bitter cold.
The toughest
Simon Fisher, navigator aboard Vestas 11th Hour Racing commented, "This has probably been the toughest Southern Ocean leg on record for quite some time. I'm on my fifth race now and I don't remember one as hard. As usual it's blowing about 35-40 knots, so really, there's just been no let up in the last week and half to these conditions…"
Despite the weather, in fact because of it the crews have had to keep going. However much they might have wanted to just stop and take some time to get over the news from Scallywag they had to keep going; they had to focus on getting out of the Southern Ocean safely. And in this instance, getting out safely meant getting out fast. It was as much a race against the weather as an effort to catch the leader Team Brunel as they fought their way to Cape Horn.
Another front
The previous Strategic Review left the fleet right before the tragic crash gybe on Scallywag that knocked John Fisher overboard. In Image 1 from 12.30UTC on 26th March we can see that conditions were horrendous at this point, with a big frontal system sweeping across the fleet bringing breeze that was averaging almost 40 knots – so you can imagine what it must have been like at the peak of the big squalls.
©Geovoile - Image 1 (Click for larger image)
The passage of the front moderated conditions a little, and brought a shift in the wind direction back to westerly, leaving Cape Horn dead downwind of their position. In the previous review I expected everyone to gybe to starboard to get south, and in Image 2 from midnight UTC on the 27th March we can see that they did. They went all the way to the ice exclusion zone before picking a lane and setting up on a long port gybe towards South America.
©Geovoile - Image 2 (Click for larger image)
Team Brunel (yellow) had opened up their advantage to a little over 50 miles at this point, leading from the most southerly boat, Dongfeng Race Team (red), ahead of a tight group of Vestas 11th Hour Racing (orange), then MAPFRE (white and still nursing their damaged mast track), with Turn the Tide on Plastic (light blue) and Team AkzoNobel (purple) trailing that bunch by about 20 miles.
And another
Image 2 also shows that the next storm was coming on them fast, with another frontal line and wind shift. In Image 3 from 11:00UTC on the 28th we can see that there was a short burst of north-westerly wind on the leading edge of the front, which improved their course on the port gybe.
©Geovoile - Image 3 (Click for larger image)
Once the front had gone through though, the wind once again went back to west – or even a little bit south-west – and at this point, everyone went back to starboard. This gybe was now the quickest way to Cape Horn. Team Brunel's lead meant that they got the shift in the wind last, and so they gybed to starboard about six hours after the rest of the fleet. This created quite a bit of leverage (distance between the boats perpendicular to the course to Cape Horn).
Leverage
In Image 4 from 04:00UTC on the 29th March 2018 we can see that this leverage meant that Team Brunel approached Cape Horn along the coast of Chile, while everyone else came at it from the Southern Ocean.
©Geovoile - Image 4 (Click for larger image)
We can also see in Image 4 why everyone was racing the weather and not just the fleet. There was another monster storm to their west and it was fast catching them. It was this storm that the race officials had been trying to route Scallywag through, to get them safely to a port in Chile.
Drake Passage
The water gets a lot shallower in the Drake Passage between Cape Horn and Antarctica. It's the reason why it has such a ferocious reputation, and no one wanted to be anywhere near it as the waves from that storm broke onto the continental shelf rising from the seabed. Speed was safety.
Cape Horn
The main pack had set up their approach to Cape Horn on port gybe, so that they could make the best possible use of the wind shift to the north-west that came with the arrival of the front. In Image 4, Team Brunel has an 80nm lead, but they were still not in the full north-westerly with a wind direction of 280, compared to the rest of the fleet at around 300-315.
If we look at Image 5 from 08:00UTC on the 29th March we can see the moment when Team Brunel crossed in front of the fleet and gybed to go around Cape Horn. They still hadn't got the wind shift, and as a result Vestas 11th Hour Racing had cut the lead in half, to just 40nm.
©Geovoile - Image 5 (Click for larger image)
It got worse, as Team Brunel had to go further on starboard before their final gybe – presumably because they still had the 280 and expected that wind direction to last to the Horn. They sailed extra miles and so – even though they did eventually get the same breeze as the rest of the fleet – when they rounded the Horn and turned north the lead was just 34nm.
Narrow escape
In Image 6 from 15:30UTC on the 29th we can see just how close they all were to getting badly hit at Cape Horn. They went around in 25-30 knots and that purple patch right behind them has winds averaging 35-40 knots. A few hours later and it would have been a very bad time to go through one of the roughest pieces of water on the planet.
©Geovoile - Image 6 (Click for larger image)
Bonus point
Team Brunel went past Cape Horn just after 13:00 UTC on the 29th March, and earned the bonus point for being first past the landmark. Vestas 11th Hour Racing followed just two hours later, with Dongfeng 45 minutes behind them. Then came Team AkzoNobel at 17:22 with Turn the Tide on Plastic only 13 minutes behind her.
MAPFRE
The overall leader MAPFRE suspended racing just short of Cape Horn to link up with their shore crew who had brought a boat out to meet them. They anchored in a sheltered bay and fixed their mainsail (which had ripped not long before) and the mast track and resumed racing 13 hours later. It's left them 264 miles behind on a double points scoring leg and their overall lead is very much under threat.
Up to date
If we bring it more or less up to date with Image 7 from 13:00 UTC today, 30th March, we can see the fleet headed north-east in a solid northerly wind. The forecast has changed since Monday when it looked clear that everyone would be able to go inside the Falklands... not anymore.
©Geovoile - Image 7 (Click for larger image)
We knew that they would have to deal with a high pressure system not long after rounding, and we can see this system in Image 7, centred to the north-east of the fleet. So they are sailing in the northerly wind from the high's western side, rather than a westerly wind on its southern side, as predicted on Monday.
Good for the hounds
This could be to the advantage of the chasing pack, because the big low pressure that was just behind them at the Horn is now moving east, to the south of them. It will drag a front across Patagonia and bring a sharp wind shift to the west, as we see in Image 8 showing their predicted positions and weather for 01:00UTC on the 31st March.
©Geovoile - Image 8 (Click for larger image)
It doesn't look like this will help MAPFRE as their predicted route takes them a long way to the east to avoid the high – they will have to sail more miles not less from their position 260nm behind. It doesn't look like the current forecast allows them any opportunities to make a recovery, but the forecast will change, and I'm quite sure they won't be throwing in the towel.
The westerly wind will allow the main pack of boats behind Team Brunel to turn north inside the boats ahead, short-cutting the corner, and almost allowing them to draw level on an east-west line. It's not quite a complete restart, as Team Brunel should be able to hold a small advantage, but it will open the race right back up.
Still tough for the fox
Nor will it get any easier from there for the leader. If we go ahead to Image 9 from 21:00 tomorrow evening, 31st March, we can see that after less than a day of relatively straight-forward sailing in the westerly wind, they will now be closing on the high pressure. It's split into two areas, one to their west and one to their north.
©Geovoile - Image 9 (Click for larger image)
The western high will shift their wind round to the south as they go around its eastern edge, and they will be forced to start sailing downwind, or Velocity Made Good (VMG) angles. (Note MAPFRE's predicted track, the white dash line all the way to the east).
Critical timing
It's after this that the timing of the forecast becomes absolutely critical. If you look at Image 10 from 23.30UTC on the 31st March the western high has started to move off the coast of South America and out into the Atlantic. The fleet are just about skirting around the very eastern edge, maintaining enough breeze to outrun the high and get north of its track before they become trapped.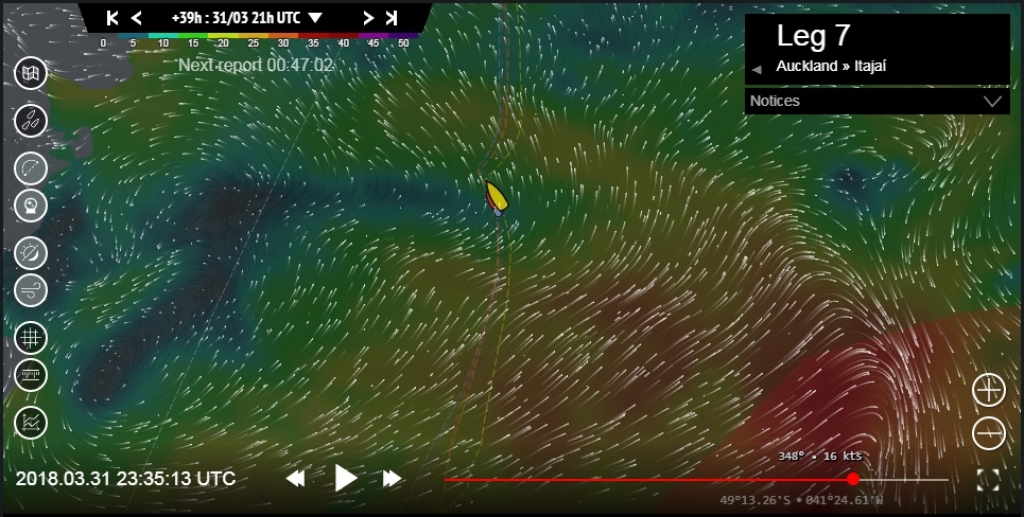 ©Geovoile - Image 10 (Click for larger image)
We can see in Image 11 from 15:00UTC on the 1st April that the movement of the high to the south of the fleet will eventually bring them a solid easterly breeze that will provide an escape route north towards the finish. If the high does move as predicted it will be a relatively painless experience, but it won't take much to make it a lot harder. If the high moves east more quickly, or expands into a bigger area we could see a proper restart.
©Geovoile - Image 11 (Click for larger image)
Still tough
And that's not the end of it either; even if they do escape the first high, a second will form along the coast of Brazil running to the finish in Itajai. If we look at Image 12 for 15:30 on the 2nd April, we can see a low pressure has formed and started to move east off the coast. It will leave high pressure and light winds in its wake, and this will make the final miles slow and tricky, with the predicted ETA still six days away, on Thursday next week.
©Geovoile - Image 12 (Click for larger image)
I very much doubt it will play out exactly as forecast, we've already seen significant change in both the actual and the predicted behavior of the high pressure since we first looked at this section on Monday. So the chances of it happening as forecast all the way to the end of next week are slim to none.
We do know that the forecast and conditions are both fluid and highly changeable, and while that is a challenge for the leader, it's an opportunity for everyone else. They may have escaped the worst the Southern Ocean has to throw at them but the race to Brazil is far from over.