Daily Digest - Saturday 24 March
All the best content from the past 24 hours packaged into one place
As the fleet gears up for classic Southern Ocean conditions from here to Cape Horn, Dee Caffari reflects on how far her team has come and the risks and responsibility the Southern Ocean holds for a Skipper. Check out the video below.
'We know how to survive in it, we've now got to try and race in it' ??

Dee Caffari confident in her @TurnTidePlastic crew ahead of testing conditions in the #southernocean ? pic.twitter.com/xzu7PL1W26

— Volvo Ocean Race (@volvooceanrace) March 23, 2018
John Fisher braces himself before heading out on deck, portrait taken by Konrad Frost.
Just when you think you've seen all the wet weather shots the Volvo Ocean Race has to offer, Jeremie Lecaudey blows our minds with this insane picture of Vestas 11th Hour Racing. Can't stop staring.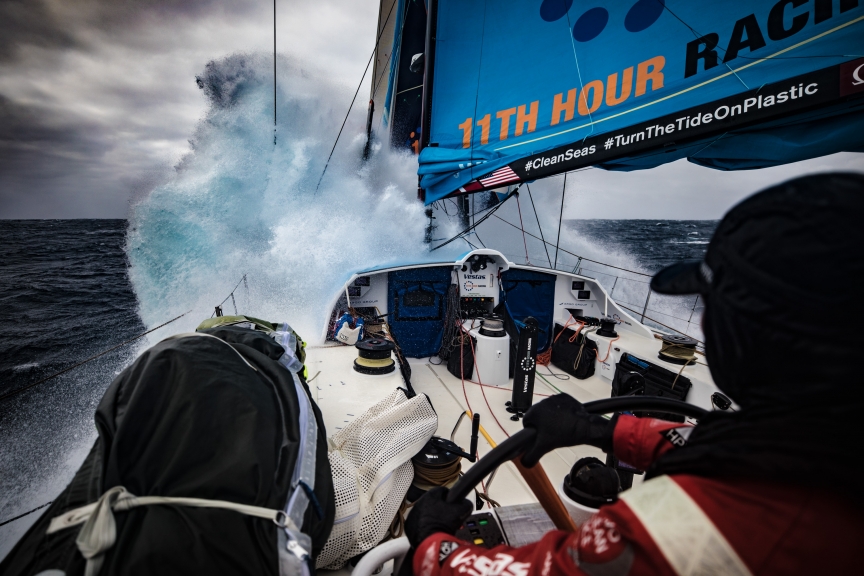 When racing across the Southern Ocean in a Volvo Ocean 65, there's very little room for privacy. Sam Greenfield captures the level of intimacy onboard with this well-timed picture.
When your everyday comforts are taken away, it's the simple things in life that you learn to look forward to, according to Vestas 11th Hour Racing's Navigator Simon Fisher. You can follow SiFi on Twitter here.
This is looking pretty good right now! It been a busy night, morning and day... looking forward to getting my head on that pillow! pic.twitter.com/c7BCTFdEBC

— Simon Fisher (@sifisailing) March 23, 2018
And finally, what better way to top off today's content than with this drone footage from Onboard Reporter Yann Riou. Tough to keep a drone up in such rough conditions #DontTryThisAtHome
Did you know that all the incredible content delivered from the boats is made possible by Inmarsat? You can follow them on Twitter here.
Freezing waters, wild, dark & remote sailing conditions. ?❄️⛵️
The #volvooceanrace teams are on full alert as they head to Cape Horn through the Ice Exclusion Zone of the Southern Ocean. #Leg7 #InmarsatVOR #FridayMotivation https://t.co/9HMxKoYCcg pic.twitter.com/Ekn7ixPpM2

— Inmarsat (@InmarsatGlobal) March 23, 2018