Sustainability News - February
Your news round-up from the Volvo Ocean Race Sustainability Programme team. Click on the links for more information.
New organisations join the Volvo Ocean Race Sustainability Programme
Water purification company Bluewater have become Official Water Provider, Race Sponsor and Sustainability Programme partner and market leader Stena Recycling are now an official Sustainability Programme partner.
As part of their partnership, Stena Recycling are providing expert speakers on sustainability at Volvo Ocean Race Ocean Summits whilst Bluewater are providing hydration refill stations at Race stopovers.
These partnerships are not only providing a solid communication platform for Stena Recycling and Bluewater, they are also helping us achieve our main goal: Turn the Tide on Plastic!

More microplastic data and a second team to monitor
The Turn the Tide on Plastic boat continues to contribute to important scientific research with preliminary results so far showing highest levels of microplastics recorded in samples from the Mediterranean and North Atlantic.
Data analysis has found microplastic particles in the Oceans close to Antarctica. Meanwhile, AkzoNobel will become the second team to use onboard sampling equipment to measure indicators of ocean health and collect microplastics samples. The scientific units will be fitted during the Auckland stopover.
Recently, as the boats approached 3°N of the Equator they each launched drifter buoys into the ocean to capture data that will help scientists better understand our seas and climate.
Anne-Cecile Turner, Sustainability Programme Leader for the Volvo Ocean Race, said: "Globally, our seas are being affected by a range of impacts from ocean acidification, temperature rise and plastic pollution. Through the Race we are raising awareness about the issues and exploring the solutions to these problems with a focus on plastic pollution."
The deployment forms part of the Volvo Ocean Race Science Programme, which is being financed by Volvo Cars via a contribution from sales of their V90 Cross Country Volvo Ocean Race vehicle.
Volvo Cars hit the beach in Hong Kong to collect as much plastic as possible in one hour
Volvo Cars, Volvo Ocean Race staff, guests and helpers rolled up their sleeves in Big Wave Bay for the first beach clean Volvo Cars has organised in Hong Kong.
The event was held to highlight the growing issue of marine plastic pollution. Each year, eight million tons of plastic enters the seas. If no action is taken, there will be more plastic than fish in the ocean by 2050.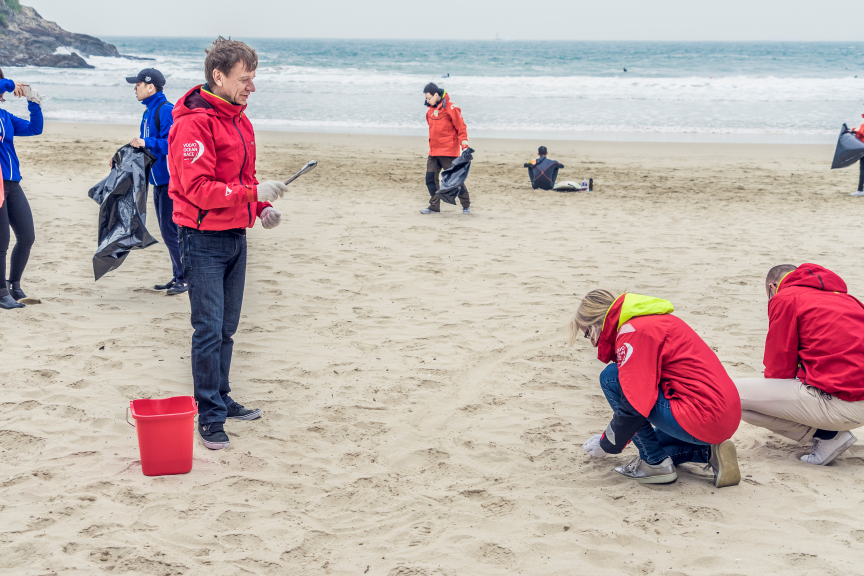 Worlds of government, business, sport and science talk plastics at the Hong Kong Ocean Summit
The sold out summit saw a range of solutions to the crisis of plastic affecting the health of our oceans discussed by a range of experts including Dr Ivone Mirpuri representing the Mirpuri Foundation and Sam Barratt, Chief of Public Advocacy & Communications, United Nations Environment.
An afternoon workshop then explored the problems and solutions to developing sustainable waste management initiatives for events in Hong Kong contributing to a positive legacy supporting the move towards the eradication of single-use plastics at the city's events.
Upcoming events:
Newport - 18th May 2018
Cardiff - 5th June 2018
Gothenburg - 18th June 2018
The Hague - 28th and 29th June 2018
Education Programme
Thousands of curious young minds passed through the Globe during the Hong Kong stopover to find out how they could reduce their plastic use. One Hong Kong school went that extra mile and took their learnings from the classroom back to their homes and even got to meet their sailing idols from the Sun Hung Kai Scallywag team.
The Volvo Ocean Race Education Programme is available in six different languages and currently being used in 32 different countries by approximately 30,000 students!
Suitable for educators of students from 6-12 years you can sign up here to obtain resources and also check the programme's new Facebook Page.
Plastic Reduction in Hong Kong
The Hong Kong stopover gave the opportunity to really push the limits of plastic reduction and avoidance efforts. In all, we achieved an estimated 95% reduction in potential single use plastic. Only 82kg of hard plastic was used at the event - a phenomenal result. This was due to a commitment to washables - cups, plates and cutlery at the public bars and food trucks, and replacing single use plastics with other materials such as glass, aluminium and sugarcane fibre. Read more about the Hong Kong stopover in the Sustainability Progress Update.
Mirpuri Foundation to install Seabin on Portuguese coastline
The Seabin Project supplies debris collection units at Volvo Ocean Race stopovers to collect plastic and other rubbish that collects in marinas, ports and yacht clubs. One Seabin can collect 16,500 plastic bottles each year.
After meeting the Seabin Project co-founder Pete Ceglinski at the Ocean Summit in Alicante, the Mirpuri Foundation, principal partner of the Sustainability Programme, decided to purchase a number of units. The first is being installed in Cascais yacht club, near Lisbon, and if that is successful others will be positioned along other parts of the Portuguese coastline.
Paulo Mirpuri, president of the Mirpuri Foundation, said: "As well as removing the debris floating on the water the thousands of people who walk past the Seabin every day will be able to see the amount of plastic they are collecting. That sends out a very visible and strong message. We hope this inspires others to take action to address the impacts of plastic pollution on the marine environment."
To find out more information about the Seabin Project, please visit www.seabinproject.com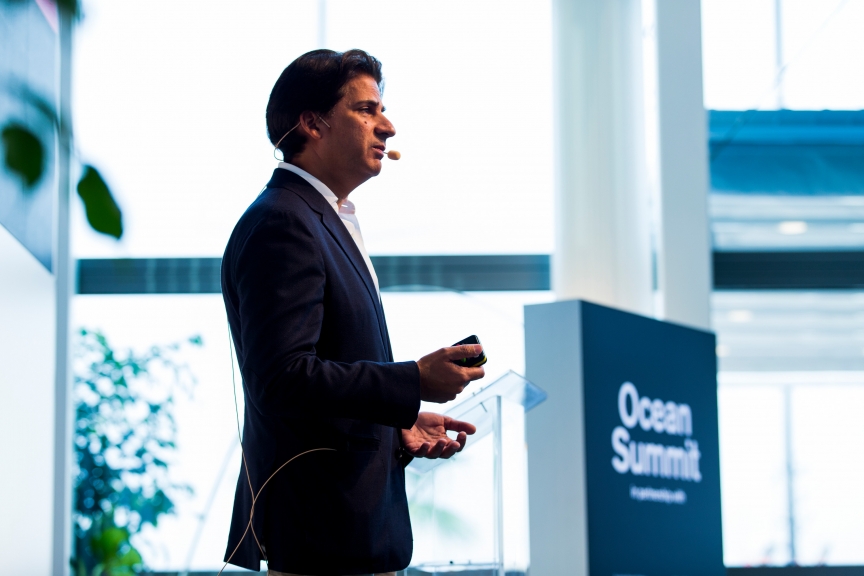 Volvo Group hosts conference on the Volvo Ocean Race and Sustainability
Volvo Group has launched its new series of conferences: Explorers Live. The events aim to connect attendees to the spirit of the Volvo Ocean Race experience and the Race's commitment to turning the tide on plastic in the fight against ocean plastic pollution.
The first edition gathered sailors, United Nations Environment, scientists and Volvo Group business operations to discuss topics such as: What is the Volvo Ocean Race all about? How does United Nations fight for #CleanSeas? How does Volvo Group manage plastic waste?
All talks can be viewed online and live here.
The next Explorers Live will be held on 12 March on Leadership and on 6 April on Trust & Teamwork. Stay tuned!
Resources
Media Highlights
| | |
| --- | --- |
| | |
| The Guardian - 'Microplastics pollute most remote and uncharted areas of the ocean' | South China Morning Post - 'Microplastics might already be inside us all' |
| | |
| Deutsche Welle - 'Microplastic menace has spread to the world's most remote oceans' | Time - 'Are You Tough Enough? This Round-the-World Race is Known as the 'Everest of Sailing' |