Meet Dongfeng's Horace: the man with a big future
The Dongfeng sailor has Hong Kong at his heart – and he's on his way home
Dongfeng Race Team in the Volvo Ocean Race has brought together a mixed team from six nations and speaking four languages in it's quest for glory in the world's toughest ocean race.
At the team's heart is a young man from Shenzhen near Hong Kong who has transformed his abilities on the boat over the last four years and become a key member of the race crew, completing a remarkable personal journey.
Chen Jinhao, also known to his fans all over the world as Horace, is a powerful athlete with strong features who commands respect and expects others to commit to their goals in the same passionate way that he does.
Right now he is less than 700 nautical miles from home as Dongfeng continues what is now a fast passage towards Hong Kong where his friends and family will be waiting on the dockside to greet him.
Also ready to welcome the boat with Dongfeng Motor Corporation's double swallow motif on its sails will be children from the sailing school that Horace has set up in Shenzen. They will be there to support Dongfeng during the In-Port Race in Hong Kong on January 27.
Unlike some of the Chinese sailors racing with Dongfeng Race Team, Horace came to the project before the last Volvo Ocean Race with a long history of sailing behind him.
Having grown up by the sea, he has always loved the idea of getting out on a boat. In his youth he was a promising windsurfer but his lucky break came in 2011 when he was spotted by the Hong Kong-based yachtsman Frank Pong. A young Horace crewed on Pong's 77ft yacht Jelik and went on to race in the America's Cup World Series and the Extreme Sailing Series.
So it's fair to say that Horace knew his way around a boat when he joined Dongfeng Race Team and was selected for six of the nine legs in the last Volvo Ocean Race – more than any other Chinese sailor - but his progress since the end of that edition has been remarkable.
Nowadays, still at the tender age of 26 and sailing as bowman – one of the most difficult and high-pressure jobs on a Volvo Ocean 65 – Horace's name is one of the first on the team sheet for the crew, sponsored by Dongfeng Motor Corporation, which also includes Chinese sailors Yang Jiru (Wolf) and Xue Liu (Black), and is led by skipper Charles Caudrelier.
The French yachtsman has high hopes for Horace describing him as the "best rookie" in the Volvo Ocean Race 2014-15. "His improvement, energy and motivation is huge. Horace could be the first Chinese skipper in the Volvo Ocean Race," said Caudrelier.
During a rare moment out of the cockpit on this testing Leg 4 from Melbourne to Hong Kong, Horace reflected on his remarkable journey with Dongfeng Race Team as his home draws ever closer.
"The last race was the first time that we had participated in the Volvo Ocean Race," he said, when asked to compare his memories from 2014-15 with the current race.
"I remember I was very curious and excited when we got to the race start three years ago. But this time I was much calmer because I knew what was coming. I always say to myself 'I am still here to learn' and I always try to keep calm and modest."
Horace believes the Dongfeng team has benefitted from getting started earlier on its training and preparation than some of its rivals. "Even though new shore crew and sailors have joined the team, we have had more time to get to know each other and to live and work together," he said. "We have been able to build up close relationships and learn how to communicate with each other."
One sailor in Caudrelier's crew that Horace has bonded with – perhaps more than most – is the 46-year-old French Vendee Globe veteran, Jérémie Beyou, who has become something of a mentor to the young Chinese sailor.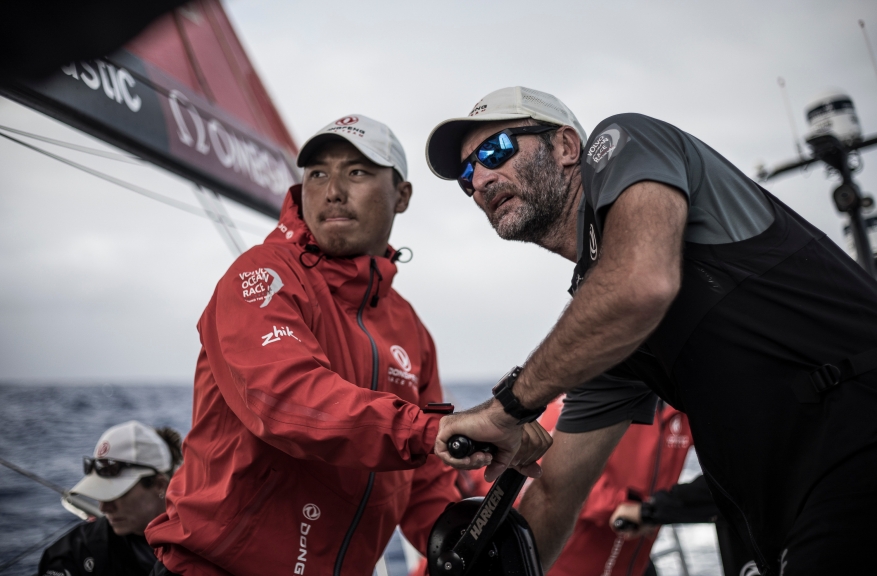 In fact Horace has already decided that after the Volvo Ocean Race he would like to follow Beyou and enter the Vendee Globe himself.
"Jérémie is a very good sailor and we have spent quite a lot of time together and we usually roomed together during training," said Horace. "I think we have similar personalities; both of us don't like to talk too much but we both love to think and take responsibility for what we are doing. We both work really hard to achieve our dream – maybe that's why we work so well together."
Horace has been learning as much as he can from Beyou, who finished third in the last Vendee Globe and has won the prestigious Solitaire du Figaro championship three times.
"Jérémie completed the Vendee, which is the race that I really want to take part in, and of course the Figaro as well," he said. "That's why I always try to learn as much as possible from him. He is a really kind person and he is happy to share his knowledge and skills with me and has taught me how to prepare for the Vendee. For me, he is my teacher for the Vendee Globe."
Aside from trying to win the Volvo Ocean Race, Horace's other great passion in life is sharing his enthusiasm and skill as a sailor with new generations of Chinese youngsters. Dongfeng Race Team has always been committed to helping the sport grow in China and Horace is leading the way, helping to encourage young Chinese sailors to take up the challenge of sailing and racing offshore.
Not content to merely pay lip service to the team's mission in this area, Horace opened his sailing school straight after the last race. "I am keen to educate the younger sailors," he said. "And that's why I opened up the sailing school in Shenzhen.
"Sailing is not only about having fun, it is also about teaching the children to think in a logical way," he added. "I believe sailing is one of the ways to show children the value of the old saying 'think twice before you take action.' I am sure sailing will be a lesson for life for them."