Tight battle to fill the podium as MAPFRE looks strong to win Leg 3
MAPFRE is on final approach, but behind them a battle is raging to fill the final two podium spots...
At the 0700 UTC position report the Spanish MAPFRE team has just over 100 nautical miles to go before the finish of Leg 3 in Melbourne. And with a 100 mile lead over their nearest competitor, only a catastrophe will stop them taking the win and the important double points that go with this Southern Ocean leg.
"100 nautical miles from the Heads and 100 nautical mile distance to Dongfeng -- we do breath now and start thinking we have this if nothing goes wrong," wrote an elated Xabi Fernández at 0545 this morning.
"What a feeling we have on board! After a titanic battle with them and after 10 days of proper Southern Ocean leg we are getting to Melbourne in first place in such an important leg. We are tired and looking forward to get there but we have to say we have enjoyed every day in this leg. We know we won't win all the legs and we know how strong the opposition is that is why we are so happy."
But behind the red Spanish boat, there is no time for that type of thinking. Dongfeng, Vestas 11th Hour Racing and Team Brunel are locked in an epic battle for position. Only two of the three can join MAPFRE on the podium.
At one point overnight, around the 0100 position report, Vestas 11th Hour Racing showed in second place, steaming up from the south. But as they converged with Dongfeng, coming in from the west, it became clear that Charles Caudrelier's boat would cross ahead and by 0700, he had regained a 17 mile lead and was positioned strongly between Vestas, Team Brunel, and the entrance to Melbourne.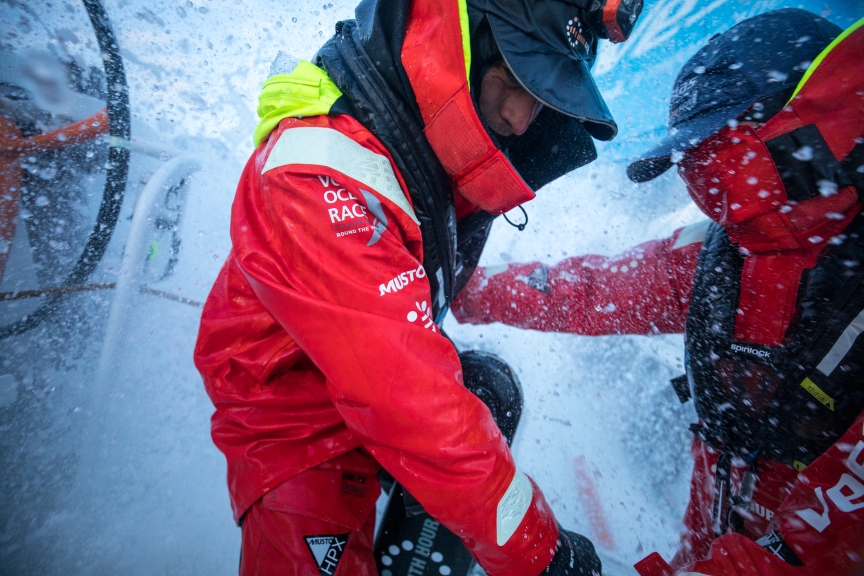 "It's nice to be as close to Dongfeng as we are but i think that's a little inflated," explained Vestas 11th Hour Racing skipper Charlie Enright. "It's one of those somethings gotta give situations - if they were gonna end up in our true wind direction I'd like our chances, but unfortunately we're going to end up in theirs, so they'll stretch a little from the numbers that you see here. We're seen these finishes before and it's nice to know that we're close you know after it had been up over a hundred miles. We're still fighting to the end, for sure, especially with double points on the table."
His navigator, Simon Fisher, said the task ahead was simple, if not easy:
"The next 24 hours is all about keeping the yellow boat behind us and catching the red one. we'll see how we go."
For Dongfeng skipper Charles Caudrelier, it's a stressful time. Damage to their keel system has been a distraction and cost some miles while the repair was underway. And just by virtue of positioning he's been sailing in less wind than the boats chasing him. That's about to change however.
"It wasn't an easy one," he said, speaking about the 0100 position report that showed Vestas 11th Hour Racing had made a pass on the distance to finish calculation.
"It's not good news. We have less wind where we are. But now we are going striaght to the mark and they have to join our wind. I think this was the worst sked for us and our position will be better in the next one."
And so it was.
But it has set up a spectacular finish over the coming hours.
"It's good for the fans at home," admitted Simon Fisher.
For the final three boats, Scallywag, Turn the Tide on Plastic, and team AkzoNobel, the miles are counting down, and each are making a move north, to warmer waters and a sense that the finish is getting closer.