Leg 1: done!
Scallywag skipper David Witt on a whirlwind first leg featuring a last-minute transfer deal, an insane Alicante start, incredibly close racing and a bizarre finish in Lisbon...
David – you've completed Leg 1 of the 2017-18! Leaving the dock must have been a big moment for you having wanted your own team in this race for over two decades…
The time for reflection was before we left, to be honest. Once we said goodbye to everyone and got out there, it was job in hand, and making sure that everyone was doing a good job.
Things got off to a pretty crazy start, with the boats racing through the spectator fleet…
We just did our best to get through it – I saw Dee's reaction and she seemed a bit more shocked than we were. We've been steering our 100 footer through traffic for a while, so it's all part and parcel for us. I'm sure the spectators got a good look at the racing – I almost got a prawn in my mouth at one stage from one of the corporate boats!
There was plenty of close racing on Leg 1, which will have given you a good opportunity to check out the other boats…
For sure – what we don't know, is what we don't know. The only way we find out is by doing the race. We were in sight of each other the whole time. The guys are a bit disappointed, they have high expectations. They were down when Dongfeng overtook us reaching. I said they've already done one lap, and we were pushing them the whole way. Other teams are looking for placings and where they go, but the best way for us to catch up is sailing alongside another boat, and pretty soon there'll come a time where we'll be confident to sail in our own bit of water, with no one else around, and we'll be confident we're not off the pace. As soon as we know we're fast enough, we won't have to race the fleet.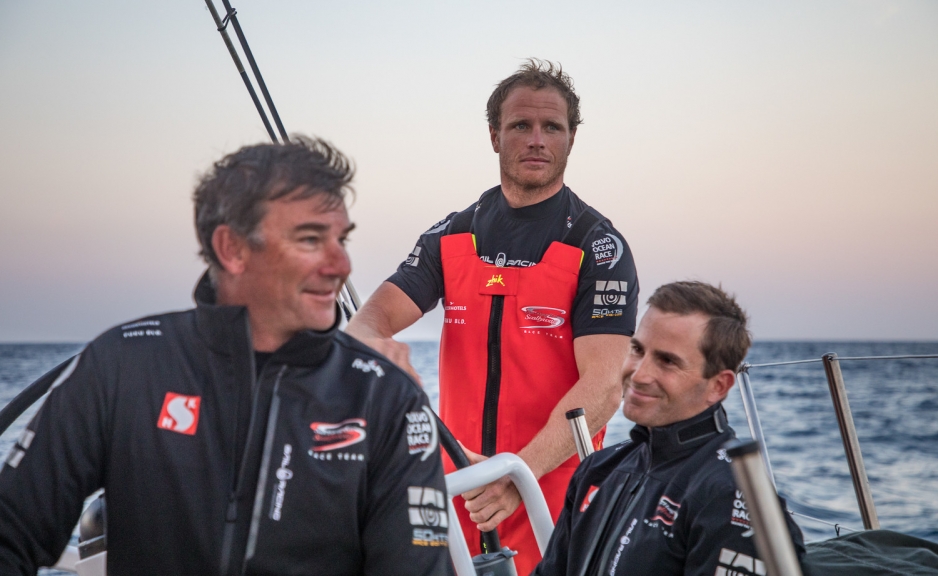 What did you learn on Leg 1?
The key moment for us was the way that AkzoNobel and Vestas sailed past us early on with a three sail set up. We're all sailing downwind with an A3 – both boats were behind us, and they both sailed past very quickly with a MH0, a J2 and a J3, a three sail heading. They were significantly faster, maybe 2 knots, and to me, that was a big moment. A lot of your decision making in this race is based around your position in the fleet – it's a risk management thing – so for me that was a turning point. For us, it was just a matter of getting the binoculars out and catching up. We hadn't done the race before, we hadn't sailed the boat much before, but once we got the same set up, we were good.
You allowed team AkzoNobel to borrow one of your sailors, António Fontes, for the leg, at short notice on the morning of the start. How did that come about?
One of their guys who has sailed with Haylesy in the past mentioned they needed a sailor, and António ticked the boxes as he was qualified to the right level. I had Seng Huang Lee, our owner, there, and we both agreed that it was the right thing to do. The deal was done in the Sailor's Terrace. It's got nothing to do with how we finished, or they finished, or doing the right thing by the Volvo Ocean Race. That's a plus of course, but it's just about what kind of person you are, I think – you need to be a sportsman above everything else, and I try to engrain in my children that they're the sort of morals you carry through life. Just because we're at the highest level of the sport, if you throw those morals out of the window then you're a fraud.
You said during the leg that the race isn't won in the first 100 metres… but your last 100 metres was pretty out there, too! Tell us what happened on the way into Lisbon…
We came into Lisbon not knowing whether team AkzoNobel had already finished, they could have been on the dock. As we approached the harbour we saw them, stuck on the right hand side trying to get to the finish, and we kind of thought 'oh, they're still too far ahead'.
As we got closer and closer, we started to think we had a serious chance of passing them. It's risk v reward. The only play we had was to hug the left hand shore as close as we could, as that was the only place that had any breeze in the whole harbour. The downside of that was that there's a risk of running aground if the breeze fully dropped, which in the end, it did.
They finished and we ended up aground. We had to get ourselves off the bottom to finish the race. It wasn't stressful, as we knew that Brunel were far enough behind not to catch us, but it was definitely extra workload that the boys didn't need after 1400 miles.
The commentators on the live feed were baffled at first, but soon described the process as 'kedging'…
Kedging is anchoring to stop yourself from drifting backwards in the tide. We were already aground, so we had to remove the boat from the bottom. Parko and Alex swam the anchor out, putting two inflated Spinlock life jackets on the anchor to keep it afloat. We attached all the kite sheets to the anchor, got them to swim out into the channel at 90 degrees so we were sure we weren't advancing ourselves, which is against the rules. When we ran out of rope, they cut the lifejackets, sunk the anchor, and we pulled the anchor line. We started to winch it, and then I just stood at the back and pulled it in by hand. The boat was then bow to the shore, so we managed to turn the boat 180 so we knew that we were going the right way.
One thing that I've learned over a long period of time, especially sailing with a guy like Syd Fischer, is that you never give up, and you never pull out of a race. We've finished some Hobart races where 9 out of 10 people would have pulled out, and he just refused to accept that the race is over. That's an ethos of our team, and has continued into Scallywag and Seng Huang, and you'll definitely see it shine through over the next nine legs.
And then there was more drama, as your navigator Steve Hayles was hit by the boom, and had to be removed from the boat by medics...
Well, in all the activity, there was no breeze, so the boom was just flapping around, and it clocked him in the head. He seemed alright at first, I knew he wasn't knocked out, but he had a bit of a delayed reaction to the whole thing. He got hit, and I think he was a bit stunned, and then he got a bit of vertigo, and the boys had to look after him. He pushes himself pretty hard – none of us sleep very much onboard but he has this amazing ability not to sleep, period. He's fantastic, tough as nails, and one of us.
How do you and the rest of the team feel after Leg 1?
We're positive. We don't want to get fifth again, and I don't think we will. The next leg will be one of our favourite parts of the race – it's quite a long leg at 20-odd days, plenty of trade winds sailing, Equator and then some hard stuff at the end into Cape Town. Every day we go sailing, we learn more about how to sail this boat. I don't think we'll win the next leg, but I think we can definitely be better than fifth. If we have a fourth or a podium into Cape Town then that's more where our expectations would be. And then the next leg to Melbourne is going to be really interesting. Heavy weather? Bring it on!